New! Chain Tensioner Option Available on Petroleum Reels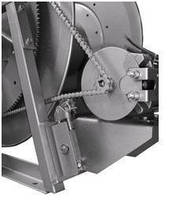 An automatic chain tensioner option is now available on several petroleum reel models (specifically, the "IV" or inverted installation series of reels).

With this accessory, chain tension is maintained better over the life of the drive system of the reel. As normal chain stretch occurs over a long period of use, the spring-actuated tensioner maintains a constant force on the chain, lessening the need for maintenance.

More from Software