Trash Cans and Waste Receptacles
New Bulk Biohazard Container Earns UN Certification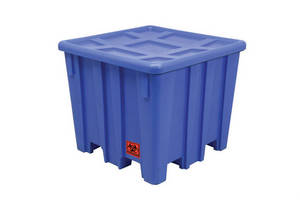 MOD P-433 Ship Shape(TM) Container Moves Soiled Laundry, Oily Rags Safely

Ashtabula, OH: The new P-433 Ship Shape(TM) Biohazard bulk container from material handling product manufacturer Meese Orbitron Dunne Co., Ashtabula, Ohio (www.ShipShapeContainers.com), earned the UN 11H2 design qualification documenting its ability safely transport hazardous materials. Developed for handling clinical waste, biomedical waste, regulated medical waste, soiled laundry, oil- and paint-soaked shop rags and other flammable solid and non-fluid materials, the new P-433 bulk forklift biohazard container features a rugged, rigid plastic container with a seal-tight plastic cover and closure to ensure materials in transport remain safely inside the container in the event of being flipped over, rotated or dropped. An optional, tamper-evident security lock is also available.

Rotationally molded in a single piece from 100% polyethylene, the hazmat container resists chemical attack, cleans easily and accommodates a variety of plastic liners. The reusable, plastic container handles payloads to 700 lbs. on a 44" x 44" footprint with four-way lift access, stacks and nests and includes permanently molded-in biohazard warning labels to meet OSHA's marking requirement in 29 CFR part 1910.1030 for bloodborne pathogens.

For more information, contact

David McHugh,

4920 State Road,

Ashtabula,

OH, 44004;

1-800-829-4535;

FAX 440.992.4667;

dmchugh@modroto.com

or

see www.ShipShapeContainers.com.

More from Software