Murata's Collaboration with Beta LAYOUT Delivers Comprehensive UHF Passive RFID Starter kit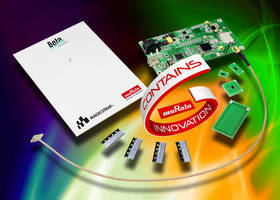 Hoofddorp, Netherlands: Murata and Beta LAYOUT, a company specializing in rapid PCB prototyping services, today announced the launch of an RFID starter kit based on Murata's MAGICSTRAP® UHF passive RFID devices. Aimed at engineers and developers wishing to quickly learn about and incorporate RFID into their electronics design, the kit comprises a reader/writer board, communication software, two reader antennas and four different kinds of MAGICSTRAP® RFID tag modules. One reader antenna is designed for standard applications where the detection range is up to several metres. The loop antenna is provided for use in hidden applications such as for anti-counterfeiting and brand protection. Using the kit allows engineers to trial the full versatility and flexibility of MAGICSTRAP® RFID devices. Communication over short distances for individual tag connections can be experienced as well as bulk reading of MAGICSTRAP® based PCB tags as necessary in logistics processes. Typical applications for MAGICSTRAP® RFID include any type of electronics application such as mobile phones, industrial control, consumer electronics and test & measurement equipment.

Alexander Schmoldt, Business Development Manager, Murata Europe comments, "The combination of Beta LAYOUT's excellent customer service and their rapid prototyping services makes them a perfect partner for Murata. Beta LAYOUT has a large pan-European customer base. They are a perfect partner for us to deploy our RFID technology into the electronics manufacturing and supply chain across Europe."

"Murata's MAGICSTRAP® is exactly the solution we have been waiting for," says Arne Hofmann, CEO Beta LAYOUT. "Finally it is possible to use RFID on and in a PCB. Our solution to embed the MAGICSTRAP® in a PCB (patent pending) is not something far away in the future but available here and now. Aside from selling it as a service and product to our customers, we will also use it to improve our own processes. We are just at the beginning of a very exciting cooperation."

The basic UHF-RFID starter is available for purchase from Beta LAYOUT:

http://www.pcb-pool.com/ppuk/info_pcbpool_rfid.html

For further information and reader enquiries:

Aya Tonooka, Murata Europe Limited. Oak House, Ancells Road, Ancells Business Park, Fleet, Hampshire GU51 2QW , United Kingdom

Tel: +44 (0) 1252 811666

E-mail: ayatonooka@murata.co.uk

Fax: +44 (0) 1252 811777

Web: www.murata.eu

Agency contact:

Robert Huntley, Publitek Limited, 18 Brock Street, Bath, BA1 2LW, United Kingdom

Tel: +44 (0) 1225 470000

E-mail: robert.huntley@publitek.com

Fax: +44 (0) 1225 470047

Web: www.publitek.com

About Murata

Murata is a leading manufacturer of electronic components, modules, and devices. The complete range of this Ceramics Technology house includes ceramic capacitors, resistors/thermistors, inductors/chokes, ceramic resonators, buzzers, sensors and EMI suppression filters. Whilst the company gets 40% of its revenue from its ceramic capacitor products, it is also the world leader in Bluetooth & WiFi Modules, and a key manufacturer of power supplies. Murata also designs and manufactures mobile handset antenna families, piezoelectric actuators for fuel injection systems, short focal length ceramic lenses and speaker products.

Established in 1944, Murata is headquartered in Japan and has European offices in Germany, the Netherlands, the UK, Switzerland, Italy, France, Spain, Denmark, Sweden, Finland and Hungary.

For more information on Murata, please visit: www.murata.eu. You can also follow us on Twitter @MurataEurope or LinkedIn www.linkedin.com/company/murata-electronics, or join us on Facebook at http://www.facebook.com/MurataElectronics.

About Beta Layout

Beta LAYOUT customers range from small one-man companies and electronics hobbyists to the research & development departments of some of the largest and most recognizable companies in the world. Today, Beta LAYOUT not only delivers PCB prototypes and small series but also laser-cut SMD stencils, Front Panels and SMD soldering solutions and offers a wide range of other services from its bases in Germany, Ireland, USA and South Africa.

More information on Beta LAYOUT can be found here: http://www.beta-layout.com/

About RFID Value Creators

RFID Value Creators names an open group of companies, which is aiming at establishing the passive UHF RFID technology as a connecting backbone in the value chain of the electronics industry. Current members of the RFID Value Creators in Electronics are Murata, Kathrein, Beta LAYOUT, alpha board, Enso Detego and Brooks. While offering information and consultation on available proven technologies the consortium helps interested companies to create value out of the use of passive UHF RFID.

The clear focus of the consortium is on the development of standard solutions which will recreate the lost visibility in the supply chain of the electronics industry. In order to support industry wide standardization the consortium cooperates closely with industry associations such as the ZVEI or AIM Global.

Related