Munters Energy-Efficient PowerPurge(TM) Option for Desiccant Dehumidification Systems Receives U.S. Patent Approval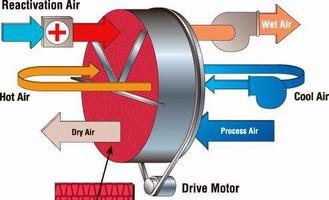 Munters Dehumidification Division - Industrial announces that a patent for the company's new PowerPurgeTM energy recovery option available with its Integrated Custom Air Handling (ICA) desiccant dehumidification systems has been approved by the U.S Patent and Trademark Office. The patent has a term of 20 years from April 27, 2004, the filing date of the application.

"Receiving patent approval for PowerPurge exemplifies Munters' dedication to advancing desiccant technology," said Paul Dinnage, vice president of research and development for Munters. "PowerPurge, which reduces operating costs from 20 to 40 percent over traditional desiccant systems, is truly a revolutionary product that deserves singular recognition in the marketplace."

When equipped in ICAs, the PowerPurge improves performance by delivering air at drier levels, while using significantly less energy than traditional active desiccant dehumidification systems.

"PowerPurge is completely isolated from both the process and reactivation streams, resulting in three times the performance of a standard internal purge," says Dinnage. "The system acts as an energy recovery system, collecting waste heat off of the hottest section of the desiccant wheel and using it to help with the regeneration. This reduces the energy required for reactivation while lowering the discharge temperature of the process air, decreasing energy costs for post cooling.

"With energy costs a constant concern, we recommend ICA users take advantage of this innovative new option," says Dinnage. "We have documented energy savings of $100,000 annually on a 28,000 cfm system with use of PowerPurge."

PowerPurge also can save on the initial capital investment. Equipping a desiccant system with PowerPurge can reduce the size of the desiccant rotor without diminishing the dehumidification capacity while still decreasing energy costs. "Because PowerPurge increases moisture removal performance, a system that required, for example, an 86-inch desiccant wheel may only need a 60-inch wheel if equipped with PowerPurge" says Dinnage.

According to Dinnage, use of the PowerPurge does not affect the size of the air handling system. "The PowerPurge is contained within the same housing that contains the desiccant wheel and does not affect the size of the air handling system," he adds. "Other external devices, such as energy recovery wheels or heat pipes, are more expensive and less efficient, and require additional space, increasing the size and cost of the air handling system."

PowerPurge is available in Munters ICA products. The ICA line of full-featured, factory-built custom air handling systems incorporates many advanced features including an innovative double wall construction that incorporates a superior no-through metal design in either 2.5 or 4-inch wall thickness. Unlike other custom air handlers, the ICA maintains its no-through metal design on all surfaces, even the system base.

Munters, the originator of desiccant wheel technology, specializes in designing desiccant dehumidification units and air handling systems. As the world's largest manufacturer of dehumidification systems, Munters provides equipment that humidifies, dehumidifies and cools air, controls emissions and dries water-damaged environments.

Munters America has operations in more than 30 locations throughout the United States, as well as in Argentina, Brazil and Mexico. Its parent company, Munters AB, is headquartered in Sweden and has operations in Europe, Asia, Africa and Australia.

More from Packaging Products & Equipment