Multitest ecoAmp(TM): Kelvin Contactor for High-Power Applications Proves Performance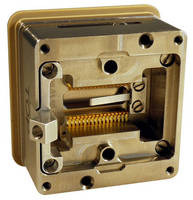 Rosenheim – Multitest, a designer and manufacturer of final test handlers, contactors and load boards used by integrated device manufacturers (IDMs) and final test subcontractors worldwide, announces that its ecoAmp™ high-power Kelvin contactor successfully passed a challenging evaluation for an automotive application at an European-based IDM. The patent pending ecoAmp™ is a state-of-the-art solution for high-power applications of 1000+ amperes.



The ecoAmp™ specifically responds to the challenging requirements of high voltage/high current test. All typical packages and modules for power applications are covered by the ecoAmp™, including MOSFETs, drivers, IGBTs, power modules, and power packages such as TO, SO and DIP.



To achieve equal current symmetry over I/Os within the contactor, the contacting resistance is held low and stable. Resistance stability is influenced by the contact spring itself AND the condition of the device pin. The ecoAmp™ is designed for an electrical performance of 500+ amperes with an inductance of 1.0 nH and below for 0.5 mm pitch.



The high-power contactor allows for testing at the full temperature range from -60° to 175°C, which is a standard requirement for automotive applications. The ecoAmp™ is able to stand the high thermal stress and support temperature stability during test. Thermal energy dissipation requires thermal management within the contactor.



Gerhard Gschwendtberger, Business Unit Manager (Contactors), commented, "We received very positive feedback from this customer about the results of the evaluation in the HVM environment. The ecoAmp™ leverages our long-term experience in the automotive market for the new requirements of high-power applications for automotive as well as energy efficiency, energy harvesting and green energy applications."



For more information about Multitest's ecoAmp™ contactors, visit www.multitest.com/ecoAmp



About Multitest

Multitest (headquartered in Rosenheim, Germany) is one of the world's leading manufacturers of test equipment for semiconductors. Multitest markets test handlers, contactors, and ATE printed circuit boards. Globally, more than 700 employees serve the company's customers in offices and branches in North America, Singapore, Malaysia, the Philippines, Taiwan, China, and Thailand. For more information, visit www.multitest.com.  

More from Sensors, Monitors & Transducers