MPE Announces Limestone Sizing for Fluidized Bed Boilers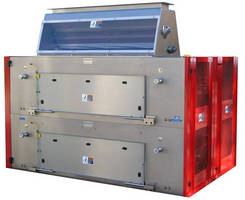 In coal desulfurization processes, when limestone is added to fluidized bed boilers, it absorbs sulfur pollutants (sulfur dioxide) and reacts with the sulfur to produce harmless calcium sulfate. For this reason, coal can and will continue to be used as a fuel source in the future. Additionally, with increased environmental focus on stack emissions and green production methods, it is critical that limestone be sized properly to effectively reduce sulfur dioxide levels.

Modern Process Equipment (MPE) has met this critical need in the coal desulfurization process by developing the Model IMD 1052 DP Limestone Gran-U-Lizer. With its patented roller-style design, the 1052 reduces limestone to the ideal size for fluidization with coal, thereby maximizing the reduction of sulfur dioxide levels and minimizing the creation of troublesome superfines.

For more information on this ecological equipment offerings, or any of MPE's other offerings, please contact MPE today!

About MPE

Modern Process Equipment Corp. (MPE) is the world's leading manufacturer of precision particle reduction equipment. MPE has been supplying its customers with superior particle size reduction solutions for over forty years, earning the reputation as the place to go to improve product yields and reduce the generation of unwanted fines. MPE aspires to design and manufacture the most modern, innovative and highest quality equipment with the most responsive, practical and timely service possible. For more information about MPE's complete line of equipment, contact Modern Process Equipment, Inc. at (773)-254-3929 or visit www.mpechicago.com. MPE is located at 3125 South Kolin Avenue, Chicago, IL 60623.


Related