Monitor Vaccine Temperature in Hospitals & Clinics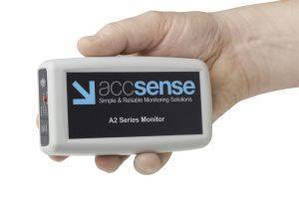 Accsense Provides Cloud Monitoring and Storage!



CHESTERLAND, OH —



Do you need to monitor vaccine temperature or another product in a hospital, clinic or healthcare center? One of the most reliable ways to do it is to use a temperature data logger. The Accsense A2-05 Ethernet Temperature datalogger is designed for automatic temperature measurement and alarm in medical refrigerators, freezers, cryogenic storage and incubators. Accsense continual monitoring systems fully comply with Joint Commission guidelines. Give us a call at 800-956-4437 and we'll be happy to help you with your questions.



Wired Temperature Measurement:



Accsense is ideal to help ensure regulatory compliance regarding temperature-sensitive drugs and vaccines. For example, the Joint Commission requires that medications and vaccines be stored according to their recommend temperatures and that healthcare organizations maintain and monitor their storage equipment performance. A data logger helps prevent product loss and also shows when staff need to dispose of medication from a refrigerator or freezer which has deviated from the recommended temperature range.



The Accsense A2-05 Wired Temperature Monitoring Pod has inputs for 2 RTDs and a Thermocouple to monitor medical storage units (per CDC guidelines), regular and ultralow freezers, and even liquid nitrogen chambers. Furthermore, if you acquire additional cold storage equipment, you can add up to 2 more sensor probes at a very reasonable price. 



The LAN-wired pod can operate using Power Over Ethernet via the included power adapter. Power and internet outage notifications are also included and in the event of a loss of the network connection, the temperature datalogger will store up to 256 data points or until your connection is restored.



Vaccine Temperature Monitoring Kit:



Do you need reliable continual monitoring for a medical fridge, freezer or incubator? The new Accsense Vaccine Temperature Monitoring Kit including everything you need to modernize your medical or life science storage per CDC guidelines. Our kit enables you to monitor temperature in a refrigerator or freezer and also provides customized alarming and data storage.



The kit contains our bestselling A2-05 Ethernet Temperature Data Logger, Compact NIST-calibrated RTD Probe, a NIST Calibration Certificate, and a 1-year Monitoring Subscription. Your kit also comes complete with our FREE on-call technical support--and all for under a thousand dollars!



Cloud Monitoring Shows Real-Time Data:



Accsense systems provide real-time monitoring and cloud data storage. Your Accsense Online

Monitoring Plan includes:





An Online Account giving users web access from any browser; Real-Time viewing; Centralized Monitoring, and System Management and Control;



Secured Data Logging ensuring Unalterable Measurements; Automatic Recording at UserSelectable Intervals; Time/Data Stamped Log; and 'One-Click' Download of Data;



100% Secure Data Storage meaning Zero Downtime; Daily Backups at our Data Center; 24/7/365 Onsite Staff; and Historical Data Retention;



Graphing and Statistics enabling you to Graph One or Multiple Sensors; View Sensor Statistics; and Set User-Selectable Time Ranges;



Group Alarming broadcasts 'All at Once' Alarms to up to 10 designees; Enables Alarm Triggers; Sends Cell and Landline Phone Alarms; Email Alarms; SMS Alarms; Pager Alarms; Maintains Alarm/Event Logs; and Sends Alarm Acknowledgement from Phone to Silence Further Alarm Calls.



Accsense: The Gold Standard!



Accsense is the choice of the world's most prestigious hospitals and clinics including Boston Children's Hospital, Massachusetts General Hospital, Stanford Hospital Clinics, UCLA Medical Center, and many others. The Accsense A2-05 and all other Accsense products are fully compliant with the requirements of The Joint Commission.



Take advantage of the functionality of Accense wired and wireless systems—call us today at 440-729-2570 to learn more!



For more information on our Accsense A2-05 Wired Temperature Monitoring Pod, more Accsense products, or to find the ideal solution for your application-specific needs, contact  a CAS Data Logger Applications Specialist at 800-956-4437 or visit our website at www.DataLoggerInc.com.



Contact Information:

CAS DataLoggers, Inc.

8437 Mayfield Rd.

Chesterland, Ohio 44026

440-729-2570

800-956-4437

sales@dataloggerinc.com

www.dataloggerinc.com 

More from Sensors, Monitors & Transducers