Misumi Offers Aluminum Extrusions and Accessories for a Full Range of Applications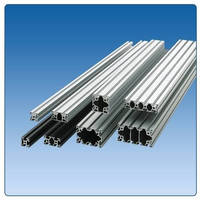 Automation system designers can save time, labor and expense with this extensive range of extrusions and accessories.

Plus, new post-assembly brackets simplify aluminum frame joining.

February 10, 2009 (Schaumburg, IL) Misumi USA, Inc., a subsidiary of Misumi Corporation, part of Misumi Group, Inc. (TYO:9962) offers automation system design engineers and other industrial product OEMs an opportunity to reduce costs and significantly streamline manufacturing and assembly processes by selecting from the industry's most comprehensive selection of high quality Aluminum Extrusions and Accessories.

Typical applications for aluminum extrusions include: safety guarding, enclosure, work station, light machine base, shutter, Robotic jig and fixture, material handling, display exhibits, as well as many others that can be utilized in a variety of industries including automotive, medical, food, packaging and general industrial automation. Misumi's wide ranges of capabilities in these product categories are broad and deep.

Representative samplings of products include:

o Structural aluminum extrusions in standard and custom lengths, and in standard and non-standard types, including straight and curved, flat and dimensional profiles, slotted, angled and tube versions. The customer can also specify the mounting hole types and their locations (in 0.5mm increments!)- without a need for a manufacturing drawing. Plus, complete selections of assembly components such as joints, brackets, end caps, fitting nuts and fastening screws.

o Precision cut to order, ready-to-assemble simple shape Aluminum Frames, available in clear or black anodized coating.

o A wide range of auxiliary components and accessories, including rollers, sliders, curtains, bases and casters.

Selection of Misumi Aluminum Extrusions and Accessories will depend on the user's specific application requirements, taking into account such factors as: load-bearing strength, hardness, rigidity, tensile strength, finished product dimensions and desired finish.

New Post-Assembly Bracket Makes Frame Joining Easy

New to Misumi's extensive aluminum extrusion product line is the Post-Assembly Easy Bracket (Part No: HABL5), which is designed to be used with the company's HFS5 Series Aluminum Extrusions (20/25/40 Square). With this Post-Assembly Bracket, two aluminum frames can be affixed with a single bolt, reducing the work process by 50 percent as compared with conventional brackets. The brackets can be mounted on the frame slots after frame assembly.

With no minimum order requirements or set up charges on a product portfolio of more than 500,000 metric and inch mechanical components, Misumi has built its reputation as the premier global supplier of high quality factory automation components. At the heart of the Misumi business model is the unique CAD configurator and web ordering system. This unique business model offers customers an effective strategy for reducing costs and gaining competitive advantage through streamlined production and assembly processes and faster time-to-market.

All pricing information and delivery times are published in the catalog and website. For more information on Misumi's comprehensive selection of Aluminum Extrusions and Accessories, please visit our website at www.misumiusa.com.

More from Mechanical Power Transmission