Mircom's 400 Series LED Notification Appliances Voted Product of the Year by Readers of Consulting Specifying Engineer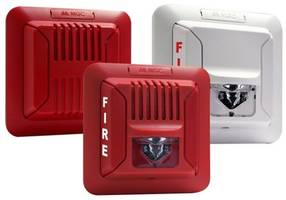 TORONTO, Sept. 27, 2018 /PRNewswire/ -- Mircom's 400 Series LED Notification Appliances have been awarded the top (Gold) Award in the in the category of Fire, Life Safety, Mass Notification. Winners in each category were selected by the print and digital audience of Consulting-Specifying Engineer from a large field of finalists nominated by qualified engineers and building professionals who specify products and systems for non-residential facilities. Products were released in the 2017 calendar year, nominated in February 2018, and voted on by readers starting in April 2018.
https://www.csemag.com/events-and-awards/product-of-the-year/2018/2018-product-of-the-year-winners.html
"Our 400 series products reflect Mircom's continuing commitment to design solutions that meet and exceed the needs of consulting and specifying engineers," said Jason Falbo, Chief Technical Officer, Mircom Group of Companies. "Being recognized as the product of the year is a testament to the quality and applicability of the solution for modern life-safety requirements. The small footprint, energy efficient & aesthetically pleasing design meets the needs of the architectural, design engineering, and fire protection communities as a win-win-win package."
About Mircom's 400 Series LED Notification Appliances
Mircom's 400 Series LED Notification Appliances offer an audible/visual solution that delivers exceptional energy efficiency in a compact design. Utilizing advanced LED technology, the Mircom 400 Series LED Notification Appliances provide a lower current draw which allows for more devices on a NAC circuit while reducing the number of external power supplies required. The Mircom 400 Series offer multiple field–selectable audible/visual settings as well as a wide range of mounting options in an easy to install compact unit. Designed for indoor wall or ceiling-mount applications, the Mircom 400 Series comply with all agency requirements including the new 2016 edition of NFPA 72.
https://mircom.com/product-listing/fire-alarm-detection/notification-appliances/400-series/
About Consulting-Specifying Engineer
Consulting-Specifying Engineer (www.csemag.com) is a print and online publication serving the non-residential building industry. It covers mechanical, electrical, plumbing, and fire/life safety engineering for commercial, industrial, government, health care, and high-tech buildings. CSE reaches over 434,000 qualified subscribers online and in print through a wide range of weekly & monthly enewsletters, videos, live events, webcasts, blogs, and virtual events. 
About Mircom
Founded in 1991, Mircom is a global designer, manufacturer and distributor of Intelligent Building Solutions. Reaching customers in over 100 countries worldwide, Mircom's portfolio includes: fire detection & alarm, communications & security, mass notification, nurse call, and building automation & smart technologies. Mircom's vision is to make buildings worldwide safer, smarter, and more livable.
www.mircom.com
Media Contact:
Michael DeMille
Vice President of Marketing & Product Management
T: 905-660-4655 ext. 2095 | 1.888-660-4655
E: 202358@email4pr.com
More from Electrical Equipment & Systems