Miller to Introduce New Equipment, Host Live Welding Demos at FABTECH 2014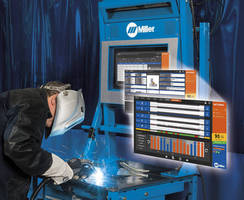 Miller Electric Mfg. Co. plans to display the latest in welding, cutting and safety technology in Atlanta at booths C2744 and C2944



APPLETON, Wis.  — Miller Electric Mfg. Co. will introduce the latest of its welding, cutting and safety equipment and accessories at FABTECH 2014 in Atlanta, November 11 to 13, in booths C2744 and C2944. Both booths will feature technology solutions designed to address common productivity and quality challenges in the manufacturing, fabrication, and construction environments. Visitors to the booth can experience new equipment firsthand through multiple live welding demonstrations, and meet with Miller representatives to discuss product and technology questions. 



In addition, Miller will host four educational seminars at the booth — Tuesday, November 11 and Wednesday, November 12.



To highlight the benefits of comprehensive welding solutions, Miller will feature Hobart® filler metals, along with Bernard® semi-automatic MIG guns and Tregaskiss® robotic guns on its welding demonstrations. Some of the Miller products to be showcased at FABTECH include:

• LiveArc™ reality-based training system: Designed to recruit, screen, train and manage welding trainee performance — all via a live welding arc — the LiveArc system features advanced motion-tracking technology that provides critical feedback to improve welding skills and provide faster, more cost-effective results than traditional training methods.



• FILTAIR® Capture 5 weld fume extraction system: Features Miller exclusive ZoneFlow™ technology, which creates a fume capture area more than three times larger than conventional systems — up to 3 feet wide and 5 feet deep. By increasing the fume capture area, the system improves safety and enhances productivity by decreasing downtime for welders to adjust the fume extraction arm, especially when welding long, continuous welds.



• SubArc Digital Series equipment and accessories: The product line includes the SubArc DC 1000/1250 Digital and SubArc AC/DC 1000/1250 Digital power sources for Submerged Arc (SAW) and Electroslag (ESW) welding applications, as well as accessories such as analog and digital interface controls, and a range of drive motors and torches. The series is designed to provide greater arc stability, offer highly reliable power regulation and simplify the integration of the equipment in more advanced heavy industrial applications.

• Big Blue® 400 Pro diesel-engine welder/generator: This reliable low-speed diesel welder/generator now offers 400-amp output in a 300-amp package. It features multiprocess flexibility and offers the versatility to work on multiple jobs, handling applications including gouging with up to 1/4-inch carbons. The easy-to-use machine has been designed with fuel economy in mind, and provides excellent weld control to increases arc quality.



• Big Blue 800 Duo Pro diesel-engine welder/generator: This machine has been designed to provide more power, flexibility, improved weld control and dual operator capabilities. Users will get estimated fuel savings of 34 percent with the dual-operator machine, when compared to two single-operator units, and additional welders can be plugged into the machine to create a multioperator work platform.



About Miller

Miller Electric Mfg. Co., headquartered in Appleton, Wis., is a leading worldwide manufacturer of Miller brand arc welding products and is a wholly owned subsidiary of Illinois Tool Works Inc. (NYSE: ITW).



For more information, visit Miller's website at www.MillerWelds.com, call 1-800-4-A-Miller (800-426-4553), e-mail info@millerwelds.com, fax 877-327-8132, or write to Miller Electric Mfg. Co., P.O. Box 100, Lithonia, GA 30058.





More from Laboratory and Research Supplies and Equipment