Miller Plastics Now Offers Large 5 Axis Plastic CNC Milling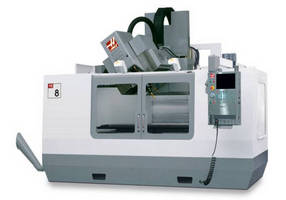 With the demand increasing for larger machined plastic parts along with more complex intricate parts Miller Plastics has added a new HAAS VR-8 for LARGE capacity plastic milling with 5 axis movement. The new HAAS VR-8 has a working envelope of  64" long X 40" wide X 36" vertical movement.  The very large working area along with its 4th and 5th axis of movement gives Miller Plastics one of the most efficient, highest capacity machining centers available.  This coupled with a 6th axis rotary head with 14" chuck and 8" through hole gives unparalleled capabilities!  



Miller Plastics is excited to add this new machine to their already extensive equipment list to offer more options to their customers. With 5 axis capabilities it allows Miller Plastics to do more complex intricate parts with just a single set up instead of multiple set ups on different machines to achieve the same part. Miller Plastics is devoted to staying ahead of the competition in plastic fabricating and this new 5 axis milling capability allows them to be more competitive with bidding on complex 3D plastic parts. Whether it is one large piece or gang vises cutting multiple parts with minimal tool changes,  this machine will save the client money!



More from Electrical Equipment & Systems