Miller® LiveArc™ Work Station with Smart Stinger Extends Training Capabilities to SMAW Process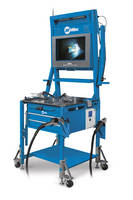 APPLETON, Wis. (Nov. 2, 2016) - The LiveArc Welding Performance Management System from Miller Electric Mfg. Co. now includes an option for shielded metal arc welding (SMAW). The LiveArc WorkStation with SmartStinger extends training capabilities to the SMAW process in addition to the previous training capabilities available for gas metal arc welding (GMAW) and flux-cored arc welding (FCAW) processes. The system's monitor features a visual feedback guide that allows pre-weld positioning for both travel and work angles. Packages are available in GMAW/FCAW and GMAW/FCAW/SMAW combinations.
The LiveArc System is a reality-based training system designed to recruit, screen, train and manage welding training performance. The LiveArc system features advanced motion-tracking technology that provides critical feedback to improve welding skills, providing better, faster and more cost-effective results than traditional training methods.
For more information, visit MillerWelds.com.
About Miller
Miller Electric Mfg. Co., headquartered in Appleton, Wisconsin, is a leading worldwide manufacturer of Miller brand arc welding products and is a wholly owned subsidiary of Illinois Tool Works Inc. (NYSE: ITW).
For more information, visit www.MillerWelds.com,
call 1-800-4-A-Miller (800-426-4553),
email info@millerwelds.com,
fax 877-327-8132,
or write to Miller Electric Mfg. Co., P.O. Box 100, Lithonia, GA 30058.
Contact:
Erica Turner
Two Rivers Marketing
515-557-2083
More from Agricultural & Farming Products