Miller Adds Auto Start/Stop Operation to EnPak® Truck-Integrated, Engine-Driven Generator, Air Compressor, and Hydraulic Pump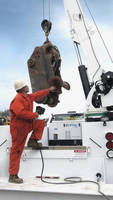 New feature further enhances fuel savings, idle reduction, asset life extension, noise reduction and lower emissions benefits of the EnPak product line.

APPLETON, Wis. - Miller Electric Mfg. Co. has announced that its EnPak® truck-integrated, engine-driven generator, air compressor and hydraulic pump now features a standard Auto Start/Stop functionality designed to further reduce fuel consumption, unnecessary EnPak engine idling, noise and emissions. This functionality will also further extend EnPak's service intervals and asset life.

With this innovative approach to idle reduction, EnPak monitors air and hydraulic loads and automatically shuts down once all loads have been idle for a pre-set time. EnPak can then sense air and hydraulic loads and restart its engine when needed. The pre-set time can be controlled ranging between 2 and 30 minutes. The Auto Start/Stop function can be enabled or disabled at the operator's preference/discretion by the simple push of a button.

Auto Start/Stop further monitors the truck battery voltage and automatically starts EnPak's engine when it senses that charging is required. This allows operation of 12-volt accessories such as LED lights and small inverters to be run with the EnPak off.

"We've further built upon the principles of reduced fuel use and engine idling time that were the inspiration for EnPak in the first place," says Chris Wierschke, product manager, Miller Electric Mfg. Co. "By eliminating engine idling when tools aren't engaged, we're further helping fleet owners save fuel costs and extend the life of their truck and equipment assets. We also eliminate equipment and truck noise completely from the site when no load is placed on the engine, which substantially improves operator concentration and environment."

About EnPak

EnPak's 27-HP Kubota diesel engine eliminates the need for a PTO and integrates seamlessly into a truck's electrical and fuel systems, allowing mechanics to run all their tools with the truck turned off. This lowers fuel costs up to 30 percent, reduces truck engine idle hours up to 60 percent, lowers truck noise by as much as 10 dB and substantially reduces exhaust fumes in the work area. It effectively eliminates nonproductive drivetrain hours, reduces maintenance costs and extends the useful life of a service truck.

EnPak's variable speed rotary screw air compressor, Miller's Air Pak(TM) 40, offers a rated 40 CFM at 100 PSI with a 175 PSI maximum that allows mechanics to use air tools without having to stop working to wait for pressure to build. Its Eaton variable displacement piston hydraulic pump provides up to 20 GPM of fluid and offers smooth, fast and accurate crane operation. And 6,000 watts of generator power at 100 percent duty cycle plus an optional 2,400 watts (120 VAC) of pure sine wave EnVerter(TM) power available at all engine speeds is available to run electrical tools including welders, lights and laptops used for equipment diagnostics.

About Miller

Miller Electric Mfg. Co., headquartered in Appleton, Wis., is a leading worldwide manufacturer of Miller brand arc welding equipment and is a wholly owned subsidiary of Illinois Tool Works Inc. (NYSE: ITW).

For more information, visit Miller's website at www.MillerWelds.com, call 1-800-4-A-Miller (800-426-4553), e-mail info@millerwelds.com, fax 877-327-8132, or write to Miller Electric Mfg. Co., P.O. Box 100, Lithonia, GA 30058.

More from Electrical Equipment & Systems