Mid-Range Bed Bug Steamer Machines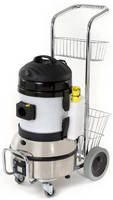 Daimer® ships new antimicrobial steam cleaners for local and federal janitorial professionals confronting insect infestations.

Woburn, MA U.S.A. - Daimer Industries® Inc., known worldwide as a provider of disinfecting bed bug steamer equipment, has now shipped a mid-range series of steam cleaners designed to manage insect infestations occurring in public and government service facilities. Daimer®'s KleenJet® 1000CVP machines offer advanced vacuum extractors, continuous cleaning capabilities and an EPA-complying antimicrobial system called ATIS®.

"We're pleased to be expanding our bed bug steamer line for government-focused janitorial pros," declared Matthew Baratta, a government products representative at Daimer.com. "Our new systems offer the features most noted by extermination pros with added auto-refilling and continuous operation features."

Bed Bug Steamer and More

Managing an infestation of bed bugs requires the right approach. The insects can appear virtually anywhere. The parasites have been found in public/tourist facilities, including the locker room of the Statue of Liberty. The bugs have been known to thrive on a variety of surfaces, ranging from common furniture to mattresses to books to clothing to carpets. Over the years, bed bugs have developed resistance to typical pesticides. Other effective bug killing chemicals are not approved for use near beds and human sleeping facilities.

More importantly, the insects have become a widespread problem in major U.S. cities including Philadelphia, New York and Detroit. Bed bug removal has become a critical function because bites can induce allergic symptoms, as well as rashes and complications in segments of the general public.

To best manage bug outbreaks and reduce the application of hazardous pesticide chemicals, properly-outfitted bed bug steamer machines are being recommended for bed bug removal.

Daimer® government-focused 1000CVP bed bug steamer systems offer key features designed to kill bed bugs:

- High-temperature, insect-destroying, steam that tops out at 356ºF.

- User-variable cleaning pressures to 105 psi for deep-cleaning surfaces without dispersing the insect's eggs.

- Advanced wet-and-dry vacuum subsystems that trap: insects, bug eggs and allergen-like waste.

- Features for non-stop operation, such as large boilers and auto-refilling water chambers.

For more information about Daimer®'s bed bug steamer systems, steam cleaner products that kill bed bugs and portable steam cleaner equipment for pest control businesses, visit www.daimer.com/steam-cleaners-for-bed-bugs-removal/ or call Matthew Baratta at (888) 507-2220.

About Daimer Industries, Inc.®: Daimer®, www.daimer.com, is a major supplier and worldwide exporter of the cleaning industry's leading line of KleenJet® steam cleaners/vapor steam cleaners/steam cleaning equipment; Super Max(TM) commercial and industrial pressure washers, including cold water, hot water, and steam pressure washing machines; and XTreme Power® floor cleaners, including carpet cleaners and hard surface cleaners.


More from Material Handling & Storage