Meyda Lighting Introduces Custom Beer Bottle Chandeliers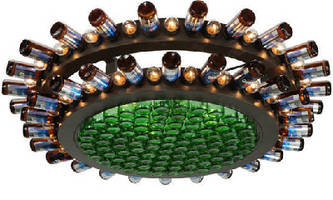 Yorkville, New York - Capture the life of any party with authentic beer bottle lighting. Perfect for homes, restaurant, hotels, pubs, nightclubs and retailers, Meyda Lighting has introduced Custom Beer Bottle Chandeliers. Meyda Lighting is a Meyda Tiffany company and a leading manufacturer and designer of custom lighting and décor.

Meyda Wine Bottle Chandeliers are so much fun that you may want to hang from these wine bottle chandeliers-but don't. The fixtures do so much more than deliver light; they add personality and pizzazz to any interior. Custom Beer Bottle Chandeliers can be designed and manufactured in any style, size or color.

Pictured is the "142 Bottles of Beer" Chandelier (120070) which has been custom crafted with 40 Amber colored bottles and 93 Green cut beer bottles. The two tiers features hardware hand finished in a Timeless Bronze. The fixture uses 48 40-watt G16.5 medium base bulbs and four 60-watt T10 bulbs.

The Beer Bottle Chandelier is handcrafted by Meyda artisans, in the company's manufacturing facilities in Upstate New York. The chandelier is 53 inches wide and has an overall height ranging from 12 to 81 inches depending on the ceiling height and the application.

About Meyda Custom Lighting

Meyda Custom Lighting is a Meyda Tiffany Company, the nation's leading manufacturer and designer of Tiffany lamps and decorative lighting. Although founded in 1974, the firm's roots actually date back to the early 1900s, supplying the Master Louis Comfort Tiffany and his Tiffany Studios with lighting products, and creating the original Coca-Cola stained glass lamps and chandeliers.

With years of designing and manufacturing expertise, Meyda Custom Lighting has developed innovations, technologies and value engineering that transcend architectural lighting for any budget or economy, in today's commercial and residential markets. The company's diverse group of designers and engineers create custom fixtures, lamps, windows or accessories to meet the exact specifications of any project.
A variety of lighting diffusers include stained glass Tiffanys, mica, fabric, fused glass, sand-carved glass, glass-blowing and acrylic. Fabricators work with steel, iron, aluminum, bronze, brass and copper, while employing a variety of craftsmanship techniques including forging, welding, forming, plasma cutting and soldering. The company's extensive palette of finishes features many textures and colors achieved by employing gilding, hand painting, power coating and electroplating. Convention and energy efficient lamping solutions are available, including LEDs, compact fluorescents, incandescents and more.

For more information, contact Meyda Custom Lighting Toll-Free at (800) 222-4009. Website: www.Meyda.com Email: sales@Meyda.com.

Meyda Custom Lighting is headquartered at One Meyda Fine Place, 55 Oriskany Boulevard, Yorkville, NY 13495.