Metcam Formally Announces Business Solutions Division to Help Inventors Launch Ingenious Products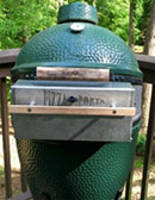 December 2, 2016 (Alpharetta, GA) - Metcam, an Alpharetta-based fabricator of sheet metal components and assemblies for OEMs, today announced the official debut of its Business Solutions Division (BSD). The BSD allows inventors of sheet metal intensive products to leverage the award winning quality, manufacturing, financial, and environmental systems and resources of Metcam to bring their products to market.
The BSD does this by assisting in product design and subsequently orchestrating the product's supply chain - from design and prototyping to materials acquisition and manufacturing to inventory and shipping logistics - providing inventors with a rapid path to market.
"With the pace of industrial and technological advances, there has never been a better time for inventors to launch new products," said Metcam President Bruce Hagenau. "Yet, many great ideas never make it to the finish line because their inventors don't have the necessary resources or expertise with product development, manufacturing, inventory management or delivery. Metcam's Business Solutions Division eliminates those impediments."
Metcam has already engaged in pilot projects for this division, making product launches feasible for a select group of inventors including:
Pizza-Porta™
An accessory for egg-shaped, wood-fired cooking systems that turns the cooker into a wood-fired pizza oven, turning out restaurant-quality pizzas in approximately five minutes.
Step 'n Wash
A self-retracting washroom step that folds down to help children and other short-statured individuals reach the sink and then folds back automatically after use.
Bench One
Partnering with BD Solutions, Bench One offers an aggressively priced desking system that can be configured in four different ways ranging from a simple fixed height bench to a full featured trading desk with cable management and a desktop that can be elevated for use and then lowered with ease, increasing ergonomic efficiency by enabling workers to stand or sit.
"Our early experience with three amazing innovators showed us the value we could bring to other inventors working to launch manufactured products," said Hagenau. "Metcam is an award-winning fabricator and assembler, so it was a natural fit to give this division a permanent place in our business model."
About Metcam
Metcam is a fabricator of precision sheet metal components and assemblies for original equipment manufacturers (OEMs) representing a wide variety of industries including telecommunications, electronics and HVAC. Metcam's advanced metalworking capabilities include laser cutting, punching, forming, hardware insertion, welding (including robotics), powder painting, silkscreen and parts assembly. Metcam also assists clients with product design and manufacturability to reduce their total cost of production. Metcam's award  winning service, combined with an aggressive focus on quality, environmental management and lean manufacturing, simplifies the outsourcing decision for firms worldwide.
For more information, visit www.metcam.com.
Related