Metal Detector Cues Retractable Noser Conveyor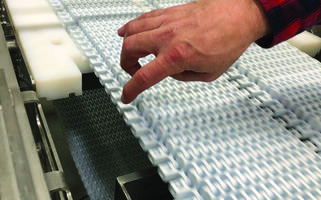 … with reject for optimum safety.
Multi-Conveyor (Winneconne, WI) - Recently built this modular retractable and straight running conveyor system to transport two (2) lanes of flexible packaged product that discharges from a check-weigher through an incorporated metal detection system.
When the reject-fault-alarm system senses metal on either of the two simultaneous running lanes of thermoformed food product, the pneumatically actuated discharge end will extend or retract allowing both lanes of product to be rejected or continue concurrently.
Multi-Conveyor's established rep, Jerry Kasmiskie of PB&J Packaging, explains:
"We're taking the product from a wide format center-to-center, from conveyor to conveyor, off of a dual-lane check-weigher, that needs a little more room for the load cells. Going through a metal detector to inspect the product for metal contamination, and if the metal detector senses the contamination, there's a reject signal that is timed as far as where it retracts and how long it retracts for the duration to dump out the product from both lanes at the same time."
Using demo trays with randomly placed pieces of metal, you'll see the uncontaminated trays proceed while metal sensed trays are retracted and rejected off the line for further inspection. The pneumatically actuated discharge end extends or retracts 12", rejecting both lanes of product.
Jerry continues, "The metal detector sensed and picked up the metal and then times it to retract at the proper time. But, the other cool thing about the conveyor, it's fully welded, ground and polished for meat and cheese applications for sanitary requirements. It's open channel, nice and easy to clean-out if product does fall inside (the conveyor). You've got removable rollers, spacers on all the supports and all the bearings, and all the return rollers underneath. And then there's a cover on here as well."
The stainless-steel hygienic conveyor's safety shield cover is manually placed into position during operation and is easily removed for operator equipment access.
See even more custom retractable conveying solutions on our website video gallery at www.-multi-conveyor.com.
About Multi-Conveyor
Multi-Conveyor is a leading manufacturer of standard and custom conveyor solutions for End-Users, Integrators, Engineering firms, Automation/Robotics, AI, OEM's and Contract Packagers across multiple markets. Our products are multiple and unique. No single conveyor product defines Multi-Conveyor. We specialize in conveyor systems for packaging or material handling for nearly every industry, product, shape and size. Our customers report they select Multi-Conveyor for concept/design, engineering skills, quality product, best value and prompt delivery.
Multi-Conveyor excels in sanitary, easy to maintain, clean-in-place or "no tools required" belt changeover systems for nearly any industry. We direct manufacture stainless steel and mild steel construction conveyors for table top chains, modular plastic belts, fabric belting and now custom MDR. Our in-house electrical and engineering departments execute the controls, panels, devices, PLCs, VFDs, HMIs, safety, inspection and sensors needed to integrate our systems with multiple packaging platforms. Quick ship plastic chain and low-profile, small transfer, pre-engineered sanitary and non-sanitary belt systems are available for quick delivery.
Watch this brief video for a visual explanation: https://youtu.be/REtWplhseas
Contact Info for Publication:
Multi-Conveyor LLC
P.O Box 10
Winneconne, WI 54986
+1-800-236-7960
[email protected]
www.multi-conveyor.com
PR Contact Non-Publication:
[email protected]