Medium Power Design Kit for Wireless Charging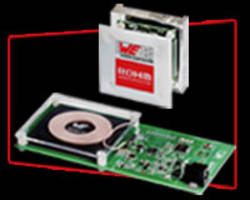 Interest in wireless power technology is rapidly growing as it provides a simple, convenient, reliable and safe way to charge and power electronic devices. For example mobile phones and portable computing devices in the home, car and workplace, can be charged by just using one single charging source while contributing to improved device safety and reliability.
The Qi standard was introduced by WPC (Wireless Power Consortium) and latest version expands the power range from 5W (low power) to 15W (medium power) in response to the growing market need. It enables wireless charging up to three times faster than before.
ROHM Semiconductor as a technology leader with a full family of Qi certified products targeting low and medium power applications, pioneered the development of this technology with the world's first Qi 1.2 certified wireless power transmitter IC BD57020MWV and receiver IC BD57015GWL. Together, they provide a complete solution for delivering medium power wirelessly to portable devices.
In collaboration with Würth Elektronik eiSos, ROHM is now offering a design kit based on the transmitter type MP-A7 to emphasize the advantages of its wireless power products.
It consists of its latest transmitter and a receiver modules, a LED load module, a Quick Start guide and various power adapters.
The kit gives engineers the opportunity to test and integrate wireless power solutions in their applications whilst accelerating the adoption of new technology in power applications.
Different combinations are available to match the user's application needs.
Key Components
BD57020MWV: Wireless Power Transmitter IC
BD57015GWL: Wireless Power Receiver IC
ML610Q772-B03: Microcontroller for MPHeadsets
Key Features
Plug & Play Medium Power (15 W) Wireless Power Design Kit
Compliant with Qi Standard of the Wireless Power Consortium (WPC)
Complete solution consisting of Tx, Rx and LED Load module
Flexible and modular approach for fast integration of wireless power in your product design
Applications
Portable devices used in a clean area, where connectors pose a risk of polluting e.g. medical facilities and (industrial) clean rooms
Devices with a large number of mating cycles to avoid connector damage
Headsets
Battery operating portable devices
Smartphones, Tablets
Read more: http://www.softei.com/mailer/link.php?M=1277415&N=1916&L=3330&F=H
More from Fluid & Gas Flow Equipment