Medit Inc Announces Orion-USB Inspection Camera - New Device in their Line of Affordable Snake Cameras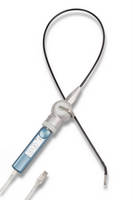 Orion-USB Camera is a Highly Portable Inspection Device with User-Friendly Features



Medit Inc, one of North America's biggest online suppliers of visual inspection devices, is pleased to announce their new product available for purchase online - Orion-USB Inspection Camera.



Orion-USB is a new generation of innovative equipment for remote visual inspections of different hard-to-reach areas, for example, car engine and parts, drains, walls, ducts and industrial machinery. These cameras are light, portable, easy-to-use and compatible with different types of probes.



Terry Peristerakis, Medit Technical Support Manager: "We are anticipating increased interest in these inspection cameras since they combine hi-tech technologies in remote visual inspections with an ease of use and are suited for both - home use and professional applications."



Another important feature of the Orion-USB inspection camera is that it can not only locate the problem in a hard-to-see spot, but also capture and save still images and videos directly to a PC. All the information can be stored on a hard drive by means of a USB Cable (USB 1.1/2.0 format). Images are captured in JPEG and MPEG4 formats, with a maximum resolution of 720x480 pixels and can be easily retracted in the future, sent to client or used for further analysis.



All of the interchangeable probes that couple with this handle are water, diesel, gasoline, antifreeze, and oil proof.



Orion-USB device is highly recommended for Aircraft, Marine, Locksmith and Automotive businesses.



About Medit Inc.

MEDIT Inc., based in North America, is one of the largest online suppliers of visual inspection devices worldwide. The company serves a global market, with clients in over 38 countries worldwide and a growing network of international resellers providing rigid and flexible borescopes, inspection cameras, endoscopes, as well as a full line of accessories.



Related