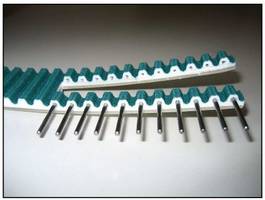 "Ideal for quick timing belt installation" Not for Drive Belts
Urethane Timing Belt Pitches
• T5, T10, T20, AT5, AT10, AT20
• L, H, XH
• HTD: 5M, 8M, 14M
• STD: 5M, 8M, 14M
Available Belt Widths
Varies depending on the belt pitch.
Please contact our sales department.
Benefits
• Easily installed by hands and pliers in seconds.
• Increases profitability by reducing machine downtime during belt replacement. OEM's save money in machine design because they no longer spend time making their machinery "belt installation friendly."
• Quiet running because there are no exposed metal parts to come in contact with pulleys. This eliminates damage to pulleys and conveyed products, potentially caused by competing metal based alternatives.
• Can run on your existing pulleys with the same minimum pulley requirements as your existing belt and can operate with back bend idlers.
• Excellent for belt applications with special backings including, but not limited to Linatex, Supergrip, 85 Shore A urethane, PVC, etc.
• Suitable for belts with profile attachments. Quick installation, reduces downtime and saves money.
• Precision fit, therefore eliminating gaps otherwise seen in competing designs.
• Strong enough for all conveying applications and can be custom designed according to the application strength needed, virtually matching the strength of traditional welding.
• Available on all pitches, making it a "must have" for all conveying applications.
F.N. SHEPPARD & CO. Belting Specialties
800-733-5773
Erlanger, KY
859-525-2358, Fax 859-525-8467
Charlotte, NC
704-295-1040, Fax 704-295-0145
Jackson, TN
731-427-7440, Fax 731-423-3013
Louisville, KY
502-499-8599, Fax 502-499-7330
Oshkosh, WI
920-233-7070, Fax 920-233-7202
Woodbury, NJ
859-653-3857, Fax 856-384-8415
St. Paul, MN
859-250-3723
F.N. Sheppard & Co.
1261 Jamike Dr.
Erlanger KY 41018-3115
Phone: 859-525-2358
url: http://www.fnsheppard.com
Contact:
Flint Coltharp
Asst. VP Sales & Marketing
email: flint@fnsheppard.com
More from Electrical Equipment & Systems