Meccanica Nova Corporation IMTS 2006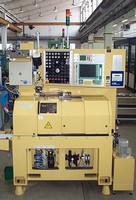 Meccanica Nova SpA, a family owned and operated business, is one of Europe's leading manufacturers of grinding systems. Founded in 1937, today Meccanica Nova operates a state-of-the-art production facility outside of Bologna, Italy.

The U.S. facility - Meccanica Nova Corporation - is centrally located in Novi, Michigan and provides dedicated Pre-Sales and After-sales Support, Engineering, Service and Spare Parts for the North American market.

Meccanica Nova's product lines include Internal, External and Combined Operation CNC Grinding Machines, which typically serve the Automotive, Anti-Friction Bearing, Aircraft, Aerospace, and General Mechanical industries.

At IMTS 2006, Meccanica Nova will be exhibiting our newest edition to our World-Class line of Novamatic Internal Grinders, the 2G-Junior. The machine will be displayed tooled for bore grinding, and will be equipped with our latest Nova Digital CNC control, post-process gage and acoustic emission system. The Novamatic line boasts reliability and accuracy under the most extreme production demands due to the overall rigidity built into every Nova grinder.

Please plan to visit our exhibit in the North Building, Hall B, Booth B-7345. Meccanica Nova management and engineers will be on hand throughout the event to answer questions and/or address any future projects you may have.

More from Laboratory and Research Supplies and Equipment