MC Machinery Systems to Feature a Variety of EDM, Additive, Milling and Turning Technologies at EASTEC, Booth #1426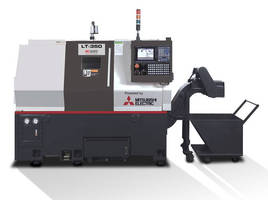 Wood Dale, IL – MC Machinery Systems, a subsidiary of Mitsubishi Corp., will have a wide range of its latest machining technology on display at the upcoming EASTEC event, May 12-14 in West Springfield, MA. The booth will feature the latest advances available from MC Machinery, including sinker and wire EDM technologies, milling and turning centers as well as additive product experts and sample parts. Attendees can find it all at booth #1426.



EDM

The efficient Mitsubishi EA8S Advance will be on display. The sinker EDM center features the new M700 series control with 15-inch touch screen and FP80S energy saving power supply, which reduces electrical consumption by 20 percent as compared to the previous FP model. The all new Power Master GF2 Adaptive Control reduces graphite electrode wear by as much as 80 percent. And, the addition of the new SS Jump 5 optimizes jump up acceleration control to stabilize high-speed, no-flush burning.



Also on hand from MC Machinery's EDM line will be the MV2400-R wire machine. It features improved machine construction, auto-threading, internal machine communication, power supply technology and operating cost reduction. The machine exemplifies Mitsubishi EDM's continued dedication to high precision and innovative technology with the new non-contact Cylindrical Drive System. 



Additive

Available exclusively from MC Machinery, the LUMEX Avance-25 metal laser sintering hybrid milling machine is one of the only machines in the world which relies on one-machine, one-process manufacturing of complex molds and parts by fusing metal laser sintering (3D SLS) technology with high-speed milling technology. The machine enables production of complicated parts through total manufacturing using digital engineering and 3D data. EASTEC attendees will have the opportunity to meet experts on the machine and examine sample parts built using its revolutionary hybrid process.



Milling and Turning

Popular among job shops because of its performance across a wide range of applications, the DV-1000 milling center will also be at the booth. The DV Series is built for general purpose machining, featuring a 15,000 RPM Direct Drive Spindle. This machine can accommodate smaller cutting tools for more intricate milling jobs, in addition to general shop work.



And finally, a versatile turning solution designed for machining hard materials, the LT-350 can cover a wide range of applications. The full-enclosure, FC30 Meehanite cast-iron design features a 30-degree slant bed for excellent support to the spindle head, turret and tailstock with low gravity. High-precision linear guideways and a rigid, servo-driven turret enable rapid travel speeds and smooth, heavy-duty cutting. The real power of the LT Series comes from the Mitsubishi M70V Series control and drive system. The control includes a state-of-the-art 64-bit RISC processing unit with ultra-high-speed fiber-optic backplane. This allows for extensive program look-ahead (337 blocks) and 33,700-BPM processing.



Mitsubishi's superior products are backed by industry-leading service and support. For more information about Wire EDM, Sinker EDM, Laser, Waterjet, Press Brake, Milling, High-Speed VMC, EDM Drill, or Consumable Products, contact MC Machinery Systems, Inc., 1500 Michael Drive, Wood Dale, IL 60191, Phone: 630-616-5920 or visit www.mitsubishi-world.com.





More from Sensors, Monitors & Transducers