Mazak HYPER QUADREX 200MSY Showcases High-Volume Part Production at PMTS 2011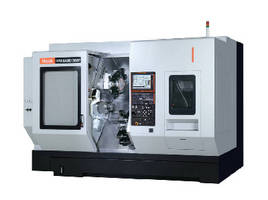 Florence, Kentucky, - Job shops will benefit from adding Mazak's HYPER QUADREX 200MSY to their high production operations. The HYPER QUADREX 200MSY features two high performance spindles, two turrets, and Y axis capability for unmatched high-volume production of small parts.

At PMTS 2011 in Columbus, Ohio, the HYPER QUADREX 200MSY will be equipped with a short quick-loader bar feeder that provides continuous, high-volume Done-in-One production. Mazak distributor Numerequip of Cleveland, Ohio, will display the HYPER QUADREX 200MSY in its booth #155.

Major HYPER QUADREX 200MSY technologies include twin opposed turning spindles
with 5,000 rpm and 30 hp each, plus full C-axis CNC control for part positioning and
contouring at a resolution of 0.0001°. It also carries upper and lower 12-station, 24-
position tool turrets for fixed and rotating tools alike. The HQR 200MSY machines
maximum part diameters up to 13.5" and can mill on both turrets that are each equipped
with 7.5 hp rotary tool capability.

In the twin-turret and twin-spindle configuration, shops can gain innovative process
opportunities. The main and secondary spindles can operate together or separately,
allowing a single part to be machined on all surfaces through a coordinated "hand-off"
between spindles, or two different parts can be machined simultaneously on one
machine. Since the twin turrets can operate independently or together on the same part,
opportunities abound for machining of two features simultaneously or balanced
machining strategies. In balanced cutting, two tools work together on the same feature
such as rough and finish turning, rough and finish milling, or opposed feature drilling, tapping or boring. In cases where the part configuration permits, balanced machining can remove up to 25% of the cycle time.

About Mazak Corporation

Mazak Corporation is a leader in the design and manufacture of productivity-improving
machine tool solutions. Committed to being a partner to customers with innovative
technology, its world-class facility in Florence, Kentucky recently initiated a $9 million manufacturing expansion. The facility's "Production on Demand" manufacturing concept uses the latest in machine tool technologies as part of its lean strategy. Continuous training and development of the workforce has created a "lean" culture, which has created opportunities for continuing growth in America. Mazak maintains eight Technology Centers across North America to provide local hands-on applications, service and sales support to its customers. For more information on Mazak's products and solutions, visit www.mazakusa.com.

More from Packaging Products & Equipment