Floor, Lift Truck and Conveyor Scales
Maximize Precision and Efficiency with Rice Lake's RL-HPJ Pallet Jack Scale!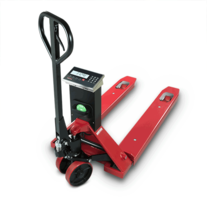 Cut out the middle man when weighing and transporting pallets! Loading and unloading products at a fixed location to record a pallet weight is no longer necessary. Instead, optimize material handling flow by weighing pallets in place. The RL-HPJ keeps the weighing and transporting process moving for up to 80 hours of continuous use using battery power, while the integrated digital scale provides a clearly visible weight readout on its large 1 inch LCD display.
Features Include:
Heavy-gauge steel with a durable powder coat finish
Steering wheels and double loading polyurethane rollers
Four stainless steel IP68 load cells
Weight indicator in IP65 stainless steel water-resistant enclosure
Configuration, calibration and diagnostics from water-resistant keyboard
Rechargeable battery with 80 hours of continuous use or one month of non-continuous use
With a Rice Lake pallet jack scale, material handling is faster and more efficient for warehouse operations.
Carolina Scales was established in March 1950 to install and service mechanical truck scales throughout the southeast. During the 1970's & 1980's with the transition from mechanical to electronic devices, Carolina Scales grew from a small sales and service scale company to a quality supplier specializing in sales and the service of industrial scale equipment, material batching & blending, data collection, calibration services, PLCs & weighing control systems and one of the largest rental scale fleets.
We specialize in solving simple & complex weighing solution problems with incredibly user-friendly technology. Easy to use, easy to maintain and when the time comes, easy to expand. Our programming/solutions technicians can design a custom system to meet your specific needs in batching, truck in/out, data collection, process control, parts counting, printing and labeling.
Call us for prompt, reliable, and efficient service, contact us at: 800.277.2439 or service@carolinascales.com
Contact This Company Download Spec Sheet
More from Cleaning Products & Equipment