Mate Precision Tooling Brings New Fabricating Solutions to FABTECH Mexico 2018, Booth 3228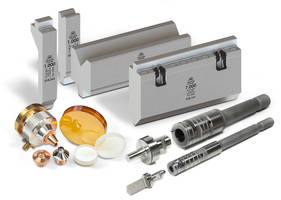 See Mate's New American Precision Style Press Brake Tooling Featuring Maglock™ Magnetic Safety System
Anoka, Minnesota: The latest Mate tooling solutions are at FABTECH Mexico 2018 in Booth 3228 May 2 - 4th. See Mate's new full line of American Precision Style press brake tooling featuring the new, groundbreaking Maglock™ Magnetic Safety System. Also see QCT™ Metric (long stem) tooling for thick turret A and B Stations and a greatly expanded laser accessory product line.
New Mate American Precision Style Press Brake Tooling Featuring Groundbreaking Maglock™ Magnetic Safety System for Easier, Safer Punch Front Loading
Mate has expanded its press brake tooling line with a new American Precision Style system that is compatible with press brake laser and optical safety systems. This full line of punches and dies is designed for brakes configured with American style holders. Key features of the new product line include Maglock™ punches that enable front loading for easy and safe tool change, common height punches and dies that speed part processing and a standard "buy-by-the-inch" customer friendly ordering system.
Mate American Precision Style press brake tooling is standard with another first from Mate: the patent-pending Maglock™ magnetic safety system. Called brilliant by industry experts, Maglock uses magnets to attach and seat the punch to the holder with no separation between the surfaces. Available only on Mate American Precision Style press brake tooling, Maglock is simple, easy, reliable and safe. The reversible/symmetrical design enables press brake punch installation facing forward or backward with the tool's magnetic power. The tang simplicity makes Maglock punches ideal for front loading tooling into the press.
Another industry first for Mate's American Precision Style system is the "buy-by-the-inch" pricing system that lets you buy the length of the tooling that you need. Just specify and buy the tooling length required by the part design.
With the exclusive Maglock magnetic safety system and compatibility with a wide variety of existing holder systems, Mate predicts American Precision Style press brake tooling will become the fabricator's choice in the future.
New Mate QCT™ Metric Thick Turret A and B Station Punches Now Available - Quick Change - Tool Less - Revolutionary Tooling
Mate's patent pending QCT insert style punching system is now available in metric sizes (long stem) versions for thick turret A and B stations. QCT Metric is simple and intuitive to setup. Simply flip the durable latch to remove and snap the new insert into place. QCT Metric is fully compatible with Mate's Ultra® family of guides and canisters, and Mate's Original Style guides, spring packs and Rapidset™ canisters. These punches are fully interchangeable with NCT, Z-Tooling, and other Thick Turret metric/long stem systems. Mate QCT punch inserts are made from M4PM™ tool steel, proven to be the most durable, longest lasting tool steel in the industry. Punch drivers are coated with SuperMax™, Mate's next generation coating to minimize wear and preserve fits.
Another nice feature – only one punch driver is needed for rounds or shapes. Mate Ultra QCT and Mate QCT Metric truly revolutionizes punch press tooling.
Mate Superior Wear Tool Steel Option For Thick Turret A And B Station Dies
Mate's Thick Turret A and B station dies have superior performance and longevity with the new optional powder tool steel. Designed for use in high performance tooling applications, Mate's high speed, particle metallurgy steel is designed to provide both exceptional wear and toughness. Ideal for the most demanding punching applications providing higher quality parts and lower cost.
Mate Laser Technologies Expands With Over 500 Product Additions
Mate has added over 500 new laser accessory products reaffirming its commitment to the rapidly growing fiber and CO2 laser market. Newly included are fiber lenses, fiber windows, nozzles and accessories to ensure all customers get what they want when they need it. An all- new, easy-to-use, OEM specific catalogs are also available.
Attend FABTECH Mexico 2018, meet Mate's fabrication professionals. They provide better ways to work smarter, operate leaner and boost productivity. Mate is now your one source for all punch press, press brake tooling and laser consumable products, supported by experienced sales engineers that can provide in-field technical support.
See Mate's exciting new products and more at the Mate Precision Tooling Exhibit, Booth 3228, May 2 - 4th. This year's show brings over 13,000 attendees from Mexico and South America to find solutions, network, learn and experience first-hand the latest innovations in the metal forming, fabricating, welding and finishing industries.
For more information before the show, in USA and Canada call 1-800-328-4492. Outside USA and Canada, call 1-763-421-0230. Fax 1-800-541-0285. Outside USA and Canada, Fax 1-763-421-0285. Website: www.mate.com. Email: marketing@mate.com
More from Machinery & Machining Tools