Mass Flow Meters/Controllers with EtherCAT Interface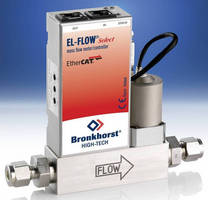 Bronkhorst USA Inc. announces the availability of an EtherCAT® fieldbus interface on their thermal mass flow meters and controllers for gases and liquids, as well as their digital pressure controllers. Bronkhorst is the first and only supplier of these devices to offer this option.

EtherCAT® is a highly flexible Ethernet network protocol with unique advantages. It operates at high speed, with high efficiency and offers simple configuration. It is therefore not surprising that EtherCAT® has been adopted rapidly within the worldwide market for control and automation.

Bronkhorst has many years of experience with fieldbus communication. With their "multi-bus" concept the company offers flexibility by equipping their digital instruments with interface boards for DeviceNet(TM), Profibus-DP®, Modbus or FLOW-BUS. The wide range of digital metering and control devices is applied in many different markets, e.g. the food & beverage and chemical industries, gas and fluid analysis equipment, glass and tool coating processes, testing fuel cells for the automotive industry and in machinery used to produce electronic chips, LED lights and solar cells.

Related