Marvell Demonstrates Innovative EDSFF Data Storage Solutions at Flash Memory Summit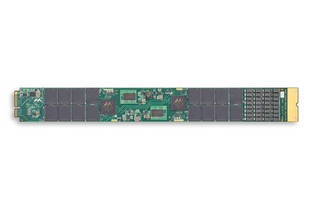 Advanced reference designs will help enable EDSFF adoption with cost-effective, high-density configurable SSD solutions for cloud and enterprise data centers
SANTA CLARA, Calif., Aug. 7, 2018 /PRNewswire/ -- Marvell® (NASDAQ:MRVL) has today announced new reference design solutions for emerging enterprise data center SSD form factor (EDSFF) implementations. Addressing the growing need within the data center and enterprise sectors for more densely packed, higher capacity SSDs, these comprehensive EDSFF reference designs are powered by the company's latest PCIe® Gen 3x4 SSD controller ICs.
The reference designs are comprised of an EDSFF board with either a pair of 8-channel 88SS1088 SSD controllers or alternatively, a pair of 8-channel 88SS1098 controllers. In addition to these NVMe™ SSD controllers, Marvell also offers the 88NR2241 intelligent NVMe switch as part of its scalable data center storage architecture chipset solutions. The 88NR2241 can be deployed on the EDSFF board to expand capabilities and reduce total cost of ownership in cloud and enterprise data centers. The switch is designed to enable dual-port support, SSD virtualization, performance aggregation and resources management between multiple NVMe SSDs.
The 88SS1088 and 88SS1098 pairings can deliver maximum data storage capacities of 32TB and are suitable for use with NAND memories from vendors. These SSD controllers, introduced in March of this year, are based on quad-core (88SS1098) and dual quad-core (88SS1088) Arm® Cortex®-R5 architectures that result in up to 3.6GB/s of throughput and up to 700k of random input output per second (IOPS). They can be implemented in a variety of low-latency single-level cell (SLC), multi-level cell (MLC) orientations, including triple-level cell (TLC) and quad-level cell (QLC). Both of them feature Marvell's latest generation of proprietary NANDEdge™ low-density parity check (LDPC) error correction technology which ensures the highest degrees of endurance, reliability and data integrity are maintained and prolongs SSD operational lifespan.
"Marvell's EDSFF reference designs showcase the abilities of our cloud and enterprise SSD controllers to tackle emerging requirements by enabling optimized power-performance architectures that deliver best-in-class total cost of ownership. It reiterates our deep-rooted objective of developing critical building blocks to deliver flexible, scalable, cost-effective and reliable storage solutions for enterprise and cloud data center use cases," said Nigel Alvares, vice president of SSD and Data Center Storage Solutions at Marvell. "Through this offering, we anticipate SSD makers will be able to accelerate their time to market with optimized and customizable solutions that meet the growing and differing SSD requirements of cloud and enterprise data center operators."
"The dynamics that are influencing the data storage business mean that there is rising expectation for more memory to be accommodated into extremely space constrained enclosures, and for increasingly complex workloads to be accurately matched against available bandwidth. At the same time, there can be no compromising on either system longevity or the quality of service delivered," said Gregory Wong, founder and principal analyst at Forward Insights. "EDSFF is one of the key emerging storage form factors that will lead the way forward, and with the reference design it has just introduced, Marvell is putting itself at the forefront of this progression."
Marvell will be demonstrating its EDSFF reference designs, as well as its other advanced data storage products, at this year's Flash Memory Summit at Booth 511, Santa Clara Convention Center, August 7-9.
About Marvell
Marvell first revolutionized the digital storage industry by moving information at speeds never thought possible. Today, that same breakthrough innovation remains at the heart of the company's storage, processing, networking, security and connectivity solutions. With leading intellectual property and deep system-level knowledge, Marvell's semiconductor solutions continue to transform the enterprise, cloud, automotive, industrial and consumer markets. To learn more, visit: www.marvell.com 
Marvell Media Relations 
Kristin Hehir
Senior Manager, Public Relations
408-222-8744
kristinh@marvell.com
Hanna Kang
Senior Manager, Public Relations
408-222-3780
hhkang@marvell.com