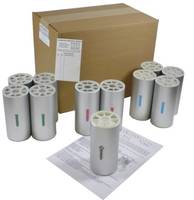 In an effort to make it easy for users of our Quality Air Breathing Systems, we offer Best Buy Filter Kits.
According to Tom Wright, Director of Sales and Marketing, in order to properly maintain your Martech Services Company products, it is imperative that you replace the filters on a regular basis. Each product has a recommended filter change schedule. Failure to change filters as necessary may result in permanent damage to the product, but more importantly can cause serious illness or injury to the user of the product.
More information on Best Buy Filter Kits can be obtained by calling Martech Services Company at 1-800-831-1525, or by visiting their Website at: www.breathingsystems.com.
P.O. BOX 7079
MAZEPPA, MN 55956
WEBSITE: www.BREATHINGSYSTEMS.COM
OFFICE (507) 843-4700
1-800-831-1525
FAX (507) 843-4953
CONTACT: Tom A. Wright
More from Architectural & Civil Engineering Products