Manufacturing Company Increasing Productivity via a Cleaner and Automated UltraFlex Induction Heating Solution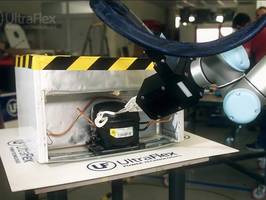 [Mar 28th, 2019] A major manufacturer of white goods (refrigerators, compressors, etc) has recently replaced their existing oxy-acetylene brazing with a cleaner, induction brazing solution provided by UltraFlex Power Technologies.
The company aimed at improving the brazing process for refrigerator compressors by integrating automated induction equipment. They turned to UltraFlex to help them solve this business challenge.
Up until then, the client was using oxy-acetylene brazing with filling material (5% silver-fos) copper-to-copper connection in the heat pump group. To prevent brazing damage, they had to put the heat pump group into the fixture before the process of brazing began and then use a manipulator to lift and put the heat pump group into a plastic chassis after the brazing had been done.
The ultimate goal was to complete the brazing process in a plastic chassis, which would eliminate manufacturing steps and increase the productivity on the line.
Providing advanced digitally controlled induction heating solutions that boost productivity with as much as 90%, UltraFlex proposed to integrate its best-selling Dragon 15 Robotic induction automation unit along with a 5-15 kW Induction Heater from UltraHeat W Series for this customer. Dragon 15 has an integrated induction coil mounted directly onto the robotic arm and is capable of reliably brazing multiple joints by applying controllable heat precisely positioned by the robotic arm, ensuring a repeatable and reliable brazing process.
By installing and integrating the RoboBraze and UR-5 Robot in their assembly line, the customer was able to achieve a fully-automated brazing process, eliminating the extra manufacturing steps previously required. Thanks to complete repeatability of the brazing process, productivity was considerably increased. Finally, upgrading from flame-based to induction-based brazing improved employee safety, eliminated smoke, waste heat, and noxious emissions, resulting in improved workplace conditions.
Find out more at:
Contact us at:
+1.631.467.6814
uptnews@ultraflexpower.com
About UltraFlex Power Technologies:
UltraFlex Power Technologies (ultraflexpower.com) offers the most advanced and innovative digitally controlled induction heaters in the industry. Its compact modular and flexible systems are suitable for a wide variety of induction heating, casting and melting applications.