Manual Wet Processing Bench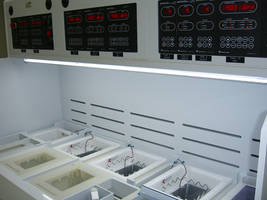 Fullerton, CA – Terra Universal features non-automated wet processing benches, designed for smaller-throughput integrated circuit or solar cell manufacturing facilities. They are an economical alternative to larger stations equipped with robots. Manual silicon wafer benches are built to comply with OSHA and NFPA standards, and have standard safety features such as an emergency power switch, PVC safety shields, rear exhaust and NEC-compliant wiring.
Order wet processing stations in white polypropylene or stainless steel to match your application: processes involving acids or solvents (solvent bench can also be equipped with a fire-suppression system). Modular sinks, tanks, baths, spray guns and other components are installed on the deck according to your workflow specifications. Electronic controls and status panels are installed above the work surface for easy visibility and reach.
Terra Universal has 40 years of experience manufacturing critical-environment equipment for cleanrooms and laboratories, serving industries such as electronics and semiconductor. For more information about Manual Wafer Processing Bench, visit Terra Universal's web site.
Contact:
Mike Buckwalter
Marketing Production Manager
Phone (714) 578-6190