Manncorp Offers Free Feeders Worth up to $16,135 .....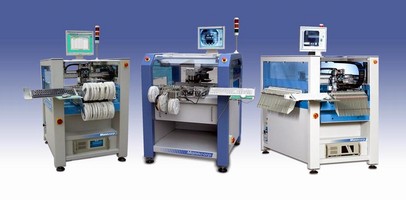 A precedent-shattering series of pick and place systems' year-end sales incentives worth from nearly $7,700 to over $16,000 has been announced by Manncorp. The company is including as many as 30 8mm intelligent feeders - along with a 10-lane stick and waffle tray - all at no additional cost for those who commit by December 27, 2007.

The machines involved in the offer are the three most popular low to mid-range assembly systems in Manncorp's line. Each offer head-mounted cameras and advanced Cognex® processing for non-contact on-the-fly vision placement of 0201 chips to 16 x 14mm SMDs and fine-pitch QFPs. There is also a bottom vision camera for larger components to 38 x 38mm.

Manncorp's CEO Henry Mann stated that he was able to implement the program through hard negotiations with overseas suppliers who are fighting for a larger share of the lucrative Western Hemisphere market. "This is an ideal way to get these high-performance systems on the floors of shops with limited budgets who seek the latest generation of assembly equipment," he stated.

The systems, dubbed "the Three Musketeers of PCB Assembly," have the availability of ATP Digital Dispensing for application of solder paste and adhesives at dot sizes down to 6 mil (.015mm) diameter. Each is driven by a Windows®-based operating system and MC-300 Series control software. They feature off-line programming, plus remote service capability and CAD download. The placement accuracy of ± .002" (± .05mm) is ensured by linear-encoded X-Y drive mechanisms.

Where each machine differs is in method of component delivery, size of placement area and throughput. The MC-384 ("The Athos"), for example, with a starting price of $48,500, including feeders worth $7,695, has a single-head and a placement area of 14.5" x 13.4" for a capacity of 128 smart tape feeders. Its throughput is 4,000 cph.

The MC-391 ("The Porthos"), starting at less than $70,000, with feeders worth $11,975, includes a three-stage conveyor. With dual heads, its speed is 5,500 cph on a large 14.75" x 23.4" placement area that can accommodate 160 tape feeders.

Completing the trio is another conveyorized dual-head machine, MC-387 ("The Aramis"), starting at approximately $73,000, includes a feeder package with a value of $16,135. With a massive 39.4" x 12" work area, it can contain 224 smart tape feeders. Placement speed is also 5,500 cph. For details, access manncorp.com or sales@manncorp.com.


Related