Mako Industries Announces Enhanced Ozone Injection Systems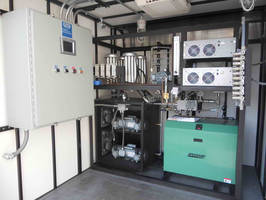 (Anaheim, CA) Mako Industries announced the company has improved the process by which it creates ozone in its line of ozone generating systems. Mako Industries' ozone injection systems are used for in-situ remediation of hydrocarbons in groundwater.

"Heat kills ozone, so Mako Industries Ozone Injection Systems remove all heat created from the pressurization process prior to ozone generation which significantly increases final ozone delivery," says Brendan Coyne, Business Development and Technical Salesman for Mako Industries. "Ozone injection systems incorporate an air dryer and refrigeration system that allows for ozone to be created under pressure with cool, clean and dry oxygen." The process improvement creates efficiency and reduces costs associated with maintenance. The ozone injection systems are also designed to have a small footprint and to be completely mobile.

Ozone from Mako Industries ozone injection systems is injected into groundwater wells to oxidize petroleum hydrocarbons such as TPHG, TPHD, BTEX, MTBE, and TBA in both groundwater and soil applications.

Mako Industries is a leading manufacturer of industrial quality, turnkey remediation systems for the environmental industry. Mako Industries has earned a reputation for producing quality systems that are reliable and efficient. The company designs, creates, sells, rents and services all types of industrial remediation systems, from water treatment equipment to soil remediation systems. Additionally, Mako Industries has a large fleet of rental equipment available. It's Field Services Group includes a fully staffed team of service technicians available to industry.

For further information on Mako Industries, please contact Mako Industries at 714-632-1400 or visit its website at www.makoindustries.com.


More from Chemicals & Gases