Major Global Hindu Organization Signs on to Test Liberty Defense's HEXWAVE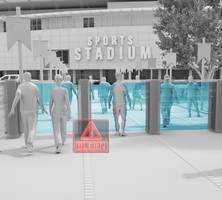 ATLANTA and VANCOUVER, Sept. 5, 2019 /PRNewswire/ - Liberty Defense Holdings Ltd. ("Liberty") (TSXV: SCAN; FRANKFURT: LD2; OTCQB:LDDFF), a leading concealed weapons detection solutions company, is announcing that it has signed a collaboration agreement (CoA) with a major Hindu organization to beta test HEXWAVE.
As a global Hindu religious and social organization with 3,300 temples around the world, the organization has a number of temples located throughout North America, and is the first house of worship to sign on with Liberty to test HEXWAVE.
"Houses of worship are a key customer segment for Liberty Defense, and it is a privilege to have the opportunity to work alongside the Hindu temple in Southeast United States to better understand how we can serve them. Securing this open place of worship, which is a sizable temple outside of India, will come with its own set of challenges, but we believe that HEXWAVE's ability to operate in both indoor and outdoor environments, in combination with its scalable and modular design, will enable us to help make this place of worship safer," said Bill Riker, CEO of Liberty Defense.
"I contacted Liberty Defense to better understand their HEXWAVE technology and how it can fit into our Hindu temples for minimizing the risk of attacks," said Dixit Suthar, security system administrator for the temple. "This is becoming more and more prevalent with houses of worship becoming targets of such attacks. There are many different types of detection technologies out there, however HEXWAVE strongly caught my attention with its ability to detect non-metallic objects. We work heavily with our partners to evaluate their products as well as improve/adapt them based on usage requirements of a house of worship. We're excited to work with Liberty Defense to see how we can make HEXWAVE a success for houses of worship."
This beta testing phase is a key part of HEXWAVE's development process. The incremental testing of the system in actual facilities can help to ensure that the product is aligned to market requirements. Beta testing is expected to begin later in 2019 and progress into 2020. Liberty will be beta testing HEXWAVE at FC Bayern Munich's Allianz Arena, the Vancouver Rogers Arena, in the State of Utah, and Sleiman shopping centers.
On Behalf of Liberty Defense

Bill Riker

CEO & Director
About Liberty Defense

Liberty provides security solutions for concealed weapon detection in high volume foot traffic areas and has secured an exclusive license from Massachusetts Institute of Technology (MIT), as well as a technology transfer agreement, for patents related to active 3D radar imaging technology that are packaged into the HEXWAVE product. The system is designed to provide discrete, modular and scalable protection to provide layered, stand-off detection capability. This is intended to provide a means to proactively counter evolving urban threats. The sensors with active 3D radar imaging and Artificial Intelligence (AI)-enhanced automatic detection are designed to detect metallic and non-metallic firearms, knives, explosives and other threats. Liberty is committed to protecting communities and preserving peace of mind through superior security detection solutions. Learn more: LibertyDefense.com
About Hinduism

Hinduism is an Indian religion and dharma, or way of life, widely practised in the Indian subcontinent and parts of Southeast Asia. Hinduism has been called the oldest religion in the world. Hinduism is the world's third largest religion; its followers, known as Hindus, constitute about 1.15 billion, or 15–16%, of the global population. Hinduism is the most widely professed faith in India, Nepal and Mauritius. It is also the predominant religion in Bali, Indonesia. Significant numbers of Hindu communities are also found in the Caribbean, Southeast Asia, North America, Europe, Africa, and other countries.
Liberty Defense Holdings Ltd.
CONTACT: LIBERTY INVESTOR RELATIONS: Adam Ross, Telephone: 604-336-9820 x1, Toll-Free: 1-833-923-3334, Email: info@libertydefense.com; LIBERTY MEDIA RELATIONS: Brittany Whitmore, Telephone: 778-238-6096, Email: brittany@exvera.com
Web Site: www.libertydefense.com
More from Controls & Controllers