Macro Sensors Offshore LVDT Linear Position Sensors Support Finite Element Analysis of Pipelines on Offshore Oil Platforms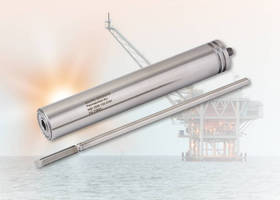 Due to its high accuracy and long-term reliability when operating in water, Macro Sensors Offshore LVDT Linear Position Sensors are quickly becoming the preferred technology in marine and offshore applications, especially for elongation measurement as part of long-term finite element analysis of pipelines, derricks, moorings and other critical high-stress members on offshore oil platforms that must be constantly monitored to ensure ongoing drilling platform stability.



In addition to providing measurement from micro inches to two feet with excellent repeatability and precision, Macro Sensors Offshore LVDT Linear Position Sensors are built to operate for at least twenty years, even if the sensor is fully exposed to seawater. Because the cost associated with replacing underwater hardware is extremely high, reliability is of critically importance in offshore applications. 



Macro Sensors Offshore LVDTs are hermetically sealed, constructed  with a subsea connector and gold-plated pins, and rated up to 7500psi to survive and perform accurately when submerged in the ocean for indefinite time periods.  Dependent upon ocean temperature and depth levels, the LVDT casing is typically composed of special alloy that supports long-term operation.



As sensor housings and core carriers made from stainless steel do not survive well in shallow warm waters, Macro Sensors designs its Offshore LVDTs with exotic material such as Inconel, titanium and hastelloy for pressure and corrosion resistance, enhancing the already high-reliability required of this sensor for longer term operation.  LVDTs, are very reliable with no moving parts and are the preferred displacement sensors when it comes to reliability and longevity.



Macro Sensors also offers UL/ULC listed and ATEX approved versions of its Offshore LVDT Linear Positions Sensors for use in hazardous locations.  For more information on Macro Sensors LVDT Linear Position for use in offshore and subsea applications, refer to Macro Sensors website at http://www.macrosensors.com/subsea_marine_lvdts.php or contact us at sales@macrosensors.com



About Macro Sensors

Macro Sensors' extensive line of linear and rotary sensors are used for position measurement and feedback in a variety of industrial applications including factory automation, motion control systems, metal fabricating, automotive assembly as well as power plants, gas/steam turbines.  Visit the website at www.macrosensors.com.



More from Agricultural & Farming Products