M.P. Electronics Announces Redesigned Sump Pump Exerciser, SPEX-1 with New Features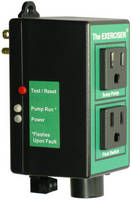 M.P. Electronics originally released the SPEX-1 in 2012. This product was designed as both a commercial and industrial product to regularly energize Sump Pumps that may go for extended periods of time without being run. While a great concept, the end users requested a number of features to be added to make this a truly great product.  The new features include a power on indication, a pump run indication, a pump fail indication, and audible alarm, and an alarm contact for connection to the building alarm system.



The Exerciser® reads the state of the Float Switch and turns the pump ON when the Float Switch closes, and turns the pump OFF when the Float Switch opens.  If the pump has not run for 7 days, The Exerciser® will automatically exercise the pump for 3 seconds.  The 7 day exercise time delay is reset each time the pump is called to run by the Float Switch.



The Exerciser® also detects if a foreign object is keeping the pump from turning freely by monitoring both the motor inrush current and the motor run current. If The Exerciser® detects a fault condition, it turns the pump off,   turns on the audible alarm, flashes the Run/Fault LED, and closes the alarm relay contact.  One minute after a fault condition has been detected, The Exerciser® will again attempt to start the pump.  If the fault is detected the second time, The Exerciser®  wait one more minute and then try a third time to start the pump.  If the pump starts and runs normally, the fault history clears after thirty minutes.  If the pump fails to start and run the third time, the fault condition remains present until the reset button is depressed.



The Test/Reset push-button has two functions: If there is no fault present, pressing the button will start the 3 second Pump Exercise cycle, and reset the exercise time delay for 7 more days. If a fault alarm is present, pressing the button will silence the buzzer and reset the alarm, allowing normal operation, assuming that the pump is free of any obstruction.



The Exerciser® keeps your sump pump ready to go, and can be used for residential applications, elevator sumps, loading docks, and dry pit sump applications.



Motor Protection Electronics Motor Protection Electronics is located in the Central Florida city of Apopka, Florida. Our company was founded in 1983, and we are a leader in the design and manufacturing of Industrial Controls.



We offer a full line of Industrial Controls for the Water and Wastewater industry, along with excellent customer service, technical support, and product availability.



For more information, contact M.P. Electronics at 407-299-3825 or visit our website www.mpelectronics.com



Our Business hours are Monday thru Friday, 8:00 AM to 4:30 PM, EST.