M&S Technologies, Inc. Announces Enhanced Precision Testing for Clinical Trial Suite (CTS) in 2018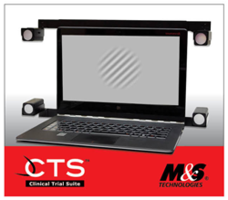 Enhanced testing for Clinical Trial Suite (CTS)
NILES, ILL. - DECEMBER 26, 2017 - M&S Technologies announces enhanced precision testing for use in clinical trials. The algorithms are customized to accommodate the most complex clinical trial testing requirements.
M&S Technologies Clinical Trial Suite now integrates with Electronic Data Centers / Reading Centers for seamless and accurate data transfer. This includes the ability to automatically export results to maintain the integrity of the data being recorded to a desktop folder for uploading to a website. The CTS photometer recognizes luminance settings that are out of specification and informs the technician of the same in order to recalibrate. These exciting new developments help increase the overall efficiency of CTS testing in 2018.
"CTS has become a mainstay in the Pharmaceutical Industry when conducting clinical trials," says Joseph Marino, President & CEO. "We're continuously working to incorporate additional advanced features on our CTS products to expand the usage opportunities for our clients who have come to rely upon the consistency and repeatability provided by CTS. "
About M&S Technologies:
Founded in 1990, M&S Technologies is a software company specializing in visual testing systems and dedicated to developing the very best products for eye-care professionals, optometry schools and universities, and products used in clinical trials. To date, over 27,000 systems are in use across 39 countries with a strong network that includes 25 distributors and several strategic industry alliances. Our hallmarks are always superior service and industry-leading technology and products that have been peer reviewed and calibrated to the ANSI and ISO specifications.
Related