LPI Introduces Two New Personnel Lifts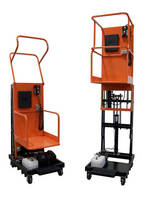 VAL-10 Single Axis Vertical Lift

Single operator maintenance lift

The VAL-10 is a single axis maintenance lift that is easily moved around and positioned by a single operator.

Weighing in at 500 lbs this compact single man lift eliminates the need for ladders, reduces fatigue, and improves safety and efficiency.

COMPACT:

Lowered platform height 24"

Raised platform height 120"

Platform size 24"W x 28"L

Weight Capacity 300 lbs. (1 person/tools)

Weight: 500 lbs.

Overall dimensions: 28"W x 40"L x 67"H

POWER OPTIONS:

120V AC

12V DC

Single Axis Powder Booth Mast Lift

Single axis personnel lift designed to be used inside a powder booth.

The basket is inside the booth while the mechanics are protected behind a flexible barrier seal.

The lift travels up and down so powder is contained inside the booth by use of a flexible gasket.

The gasket allows the arm and platform to move up and down but closes off the movement preventing the introduction of contamination into the booth or escape of the powder paint from the booth.

A remote air/hydraulic power unit provides power for the lift movement with operator controls and an Emergency Stop located on the platform.


More from Fluid & Gas Flow Equipment