Low Melting Fusible Alloys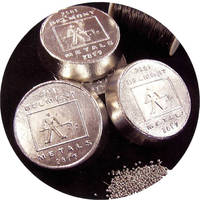 Belmont Metals Inc. - non ferrous specialists since 1896 - is a manufacturer of standard & custom non ferrous metals and alloys ( aluminum, brass, bronze, copper, nickel, pewter, tin and zinc) for casting, plating, brazing, soldering, chemicals, and other uses. We have an extensive inventory, flexibility in formulas, shapes including ingots, shot, powder, pigs, bars and rods, quantities, and lead times. Belmont now featuring low melting alloys suitable for a wide variety of applications with enhanced expansion characteristics.

Specializing in low melting 158 degrees F and 255 degrees F alloys for pipe bending and low temperature solders. Eutectic and non eutectic: melting points from 107 degrees F - 338 degrees F. These fusible alloys are ideal for a range of tooling, production and safety applications. Fusible links, bearings & bushings, sprinkler heads, fusible plugs, soldering, electroforming or lost wax complete the range of applications. Belmont offers the greatest variety of low melting alloy compositions and shapes.

Belmont Metals offers pure metals and alloys in the custom shapes or sizes you require at low prices. With over 1,000 products in inventory coupled with our lustrous reputation for metallurgical innovation, Belmont provides the vital ingredients for your business success.

Metallurgical assistance in product selection and application is available. We offer an extensive and diversified inventory, a variety of shapes, in any quantity. With over 100 years of experience we have provided the highest quality products to meet all industries specification requirements with quick delivery and reasonable prices for metals and alloys worldwide.

Call the experts at Belmont Metals today at 718-342-4900 or fax your application requirements to 718-342-0175. Visit us at www.belmontmetals.com. We showcase a product bulletin that features articles for all your alloy metals.

More from Agricultural & Farming Products