Low Loss Cable Assemblies Offer Attenuation of 0.22 dB/ft. at 18 GHz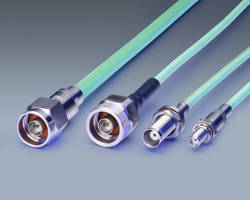 Methuen, Ma-Electronic Assembly Manufacturing, Inc. (EAM), an RF/Microwave coaxial cable assembly supplier, has recently announced the availability of Low Loss cable assemblies featuring attenuation of 0.22 dB/ft. at 18 GHz. The extremely low loss, 0.335-in. (LL335), cable assemblies also achieve typical attenuation of 0.048 dB/ft. at 1 GHz, and 0.17 dB/ft. at 10 GHz. Additionally, these cable assemblies can handle 1800 W CW input power at 1 GHz and 600 W CW input power at 10 GHz. They offer shielding effectiveness of greater than 95 dB with low coefficient of expansion over a wide temperature range of -55 to +200°C to ensure that attenuation and phase performance remains stable over time and temperature. These low loss cable assemblies feature a minimum bend radius of 1.7 in.

Available in custom lengths with outer cable diameters of 0.195 and 0.335 in., EAM's low loss cables feature custom connectors with rugged stainless-steel solder-clamp construction for optimum reliability and performance. EAM's low loss cable assemblies are available with a wide range of connector choices, including SMA, Type N, and TNC connectors.

About EAM

Electronic Assembly Manufacturing, Inc. (EAM) is an experienced source for high quality, high performance RF and Microwave coaxial cable assemblies that are used in commercial, industrial, medical, and military applications. Cable styles include: Corrugated, Flexible, Hand Formable, LMR, Low Loss, RG, and Semi-rigid. In addition to offering quick turn-around and great pricing on all standard and custom cable assemblies, they offer application engineering support.


More from Material Processing