Low Cost Alternative to Metal Glove Boxes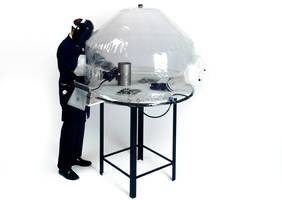 There is an ever-increasing demand in industries such as the Aerospace, Medical and Motorsport for high quality welded titanium components. Often, welding has to be carried out in an environment under 50 parts per million throughout the welding cycle.
Metal glove boxes were previously a big success, however with the lack of flexibility, heavy in weight and high cost to purchase, industries have looked to a more economical alternative.
Flexible Welding Enclosures® designed by Weld Purging Experts Huntingdon Fusion Techniques HFT® provide a low cost option, providing a very fast purging time down to a few parts per million.
The use of Flexible Welding Enclosures® has also increased during development of the Wire Arc Additive Manufacturing process, providing an inert gas shield around the titanium and other reactive alloy components.
Georgia Gascoyne, CEO for HFT® said: "We have built a large number of different shapes and sizes, mostly to customer specification. Each one has its own identity with a variety of glove ports and dimensions. Some can accommodate a complete robot system internally. They are in use worldwide for applications including the aerospace, medical and motorsport sectors."
"Inert gas such as argon is used to fill the enclosure and expel the air until the oxygen content is below 50 parts per million (ppm). It is essential when producing metallic components from alloys of titanium, zirconium and other reactive materials that the welding zone is purged of oxygen to a level lower than 50 ppm."
Each Enclosure is manufactured with a connection for a Weld Purge Monitor®, so the oxygen level can be measured at all times. Transfer sleeves also makes it possible to pass small parts in or out of the enclosure without affecting the purge quality.
They are manufactured from an optically clear ultra-violet resistant engineering grade pvc, providing excellent vision and ease of access.
Made in Wales 'Manufacturer of the Year' and Welsh Business Awards – Exporter of the Year.
For Further Information, Please Contact: 
Michaela Hess
Marketing and Social Media Manager
Huntingdon Fusion Techniques HFT®
michaelahess@huntingdonfusion.com
Sales: hft@huntingdonfusion.com
www.huntingdonfusion.com
More from Agricultural & Farming Products