Local Manufacturing of Thomson FSI Style Metric Precision Ball Screws Leads to Faster Delivery Times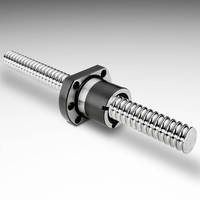 RADFORD, VA – Thomson Industries, Inc., a leading manufacturer of mechanical motion control solutions, has further enhanced its customer offerings in North America by utilizing its domestic manufacturing facilities to deliver high-quality, German-engineered metric ball screws with shorter lead times.

As only two percent of all metric ball screws sold in North America are manufactured domestically, customers typically are forced to wait up to 10 weeks for metric ball screw deliveries. Thomson's investment in domestic logistics allows orders to ship in only 1-2 weeks, significantly reducing downtime, lead times and costs, and accelerating customer integration. This move also offers enhanced communication with support and services and the ability to rapidly prototype designs.

FSI Style metric ball screws are ideal for applications requiring smooth motion and are DIN 69051 compliant, allowing them to be used in a wide range of laboratory, medical and mechatronic applications. These qualities, combined with the economical precision rolled solution, make them ideal for large 3-axis structures.

The high level of accuracy offered by FSI Style ball screws also allow them to be used in engraver/laser/waterjet cutting installations. These types of applications typically require P3/P5 accuracy, 75-100% duty cycle, harsh environments, and reversing loads or dithering issues. FSI ball screw assemblies have molded rubber (NBR) seals in standard sizes ø16 mm and above and are ideal for these demanding parameters.

FSI Style assemblies range from 16 to 50 mm in diameter with leads from 5 to 40 mm – all with standard lead accuracies of ±23 µm / 300 mm.

For further product information on the FSI Style metric precision ball screws, please visit: http://www.thomsonlinear.com/website/com/eng/products/ball_screws_and_lead_screws/ball_screws/fsi_precision_ball_screws.php

About Thomson Industries, Inc.

With more than 70 years of motion control innovation and quality, Thomson is the industry's premier producer of Linear Ball Bushing® Bearings and Profile Rail Bearings, 60 Case® Shafting, Ground and Rolled Ball Screws, Linear Actuators, Gearheads, Clutches, Brakes, Linear Systems and related accessories. Thomson invented the Linear Ball Bushing Bearing in 1945 and has set the standard ever since with an unsurpassed set of mechanical motion control solutions serving global commercial and aerospace and defense markets. Thomson has facilities in North America, Europe and Asia with more than 2000 distributor locations around the world.

Thomson Industries, Inc., 203A West Rock Road, Radford, VA 24141; 1-540-633-3549; 1-540-633-0294 (fax); Thomson@thomsonlinear.com; www.thomsonlinear.com.

 
More from Machinery & Machining Tools