Littelfuse IX4351NE SiC MOSFET & IGBT Driver Wins Annual Power Product Award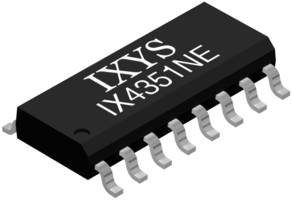 Littelfuse component recognized for its superior green energy savings performance
Chicago, December 3, 2020 — Littelfuse, Inc. (NASDAQ: LFUS), a global manufacturer of leading technologies in circuit protection, power control, and sensing, today announced its IX4351NE SiC MOSFET and IGBT Driver has been named a Green Energy Award Winner for 21ic.com's 2020 Annual Power Product Awards. Held for the last 17 years, these awards recognize and honor the best products throughout the world that succeed in energy conservation and environmental protection.
The power supply technologies of tomorrow are more than energy porters. Highly-efficient power supply technologies are drivers of innovation, allowing for better products and more advanced systems. The IX4351NE offers one of the highest energy efficiency ratios in its class, making it one of the most energy-conscious and environmentally-friendly drivers available today.
The Annual Power Product Awards presented by 21ic.com serves as one of the best display platforms for today's power supply technologies due to the number of participating manufacturers and the wide range of product categories. For the 2020 selection, the Littelfuse IX4351NE SiC MOSFET and IGBT Driver was chosen as one of the only two winners of the Green Energy Award due to its superior green energy savings capabilities and improved cost performance.
Designed specifically to drive SiC MOSFETs and high power IGBT, the IX4351NE offers a separate 9 A source and sink outputs, allowing for tailored turn on and turn off timing while minimizing switching losses. The device's internal negative charge regulator provides a selectable negative gate drive bias, delivering improved dV/dt immunity and a faster turn off. This driver eliminates the need for a separate negative supply, with an operating voltage range of -10 V to +25 V.

"On behalf of everyone at Littelfuse, we are honored to receive the Green Energy Award for the IX4351NE," said David Zha, China electronics sales director at Littelfuse. "This award means a lot to our team, as it recognizes our innovation in the power supply category, and our ongoing commitment to greener and more energy-efficient products."
Additional information is available on the IX4351NE product page.
About the Annual Power Product Awards
The Annual Power Product Awards have continued for the past 17 years, showcasing the best power supply technology in the industry. This year, awards included the TOP10 POWER Award, along with four different types of individual awards to recognize certain special products. For more information about the awards and winners, visit https://www.21ic.com/21iczhuanti/top10power2020/.
About Littelfuse
Littelfuse (NASDAQ: LFUS) is a global manufacturer of leading technologies in circuit protection, power control, and sensing. Serving over 100,000 end customers, our products are found in automotive and commercial vehicles, industrial applications, data and telecommunications, medical devices, consumer electronics, and appliances. Our 11,000 worldwide associates partner with customers to design, manufacture and deliver innovative, high-quality solutions, for a safer, greener, and increasingly connected world — everywhere, every day. Learn more at Littelfuse.com.
Media Contact:
Kristina Hodgson
Global Marketing Communications Manager
Electronics Business Unit, Littelfuse, Inc.
KHodgson@littelfuse.com
linkedin.com/in/kristinahodgson/
More from Electronic Components & Devices