Littelfuse Introduces Compact 3.6 x 10mm Single Pigtail Fuse Series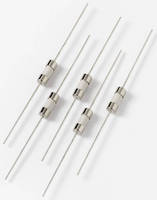 Littelfuse, Inc. (NASDAQ/NGS:LFUS) today announced the introduction of the first real 3.6 x 10mm single pigtail fuse.

Using a direct weld production method, the new 874, 875, 876 and 877 series optimize this compact footprint by doing away with the additional fuse cap often seen with competitor products of this type. This series also offer higher I2T values than similar over-capped offerings in the market.

Typically used within power supply and adaptor applications, the 874 and 875 series are designed in accordance to UL/CSA 248 standard, while the 876 and 877 series are designed in accordance to IEC 60127-3 standard.

All four series are Lead-Free and RoHS-compliant. The 874 and 875 series have UL approval, and the 876 and 877 series are VDE certified and UL Recognized.

Related