Littelfuse Introduces 400 Series High Breaking Capacity TE5 Time Lag Fuse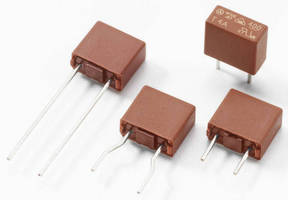 Littelfuse, Inc. (NASDAQ/NGS:LFUS) today announced the introduction of the 400 series TE5 subminiature time lag fuse.

The 400 series is designed to protect a wide range of applications, including power supplies, battery chargers, adaptors, industrial controllers, and consumer electronic devices that may be susceptible to high inrush currents.

With a broad selection of current ratings ranging form 500mA - 6.3A, and breaking capacity of 130 Amps, the 400 series offers features and options that are currently unmet by other manufacturers of this fuse type.

The high I2T values and breaking capacity of the series, combined with its vibration-resistant housing enables safe operation under high fault currents and within harsh conditions.

The 400 series is Lead-Free, Halogen-Free and RoHS-compliant, and has agency approvals including cURus, PSE, VDE, CQC (pending) that comply with international environmental and safety standards.

Related