Lista Workbenches Ideal for Dental Laboratories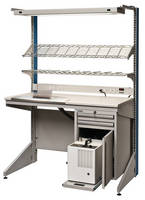 Robust bench system offers strength, quality, and custom features

Lista International Corporation announces that its workbench system is ideal for use in dental and orthodontic laboratories. With a combination of robustness and unique features configured specially for dental laboratories, Lista's workbench system provides the strength and quality needed in the demanding dental laboratory environment.

"Lista dental workbenches are not only stylish, but surpass competitors when it comes to quality, economics, and flexibility for reconfiguration," said James Anderson, Lista's vertical market and national accounts manager for laboratories. "The cabinets have the strength, quality, weight capacity, and ease of drawer operation that dental laboratories need." The systems come with a lifetime warranty, backed by Lista's reputation as a world-leading producer of productivity-enhancing storage and workspace systems.

The typical dental technician workbench is 4-feet by 2-feet but the benches also come in five-feet and six-feet sizes. They are offered in both single and double-sided configurations to support work flow preferences and space requirements. They can also be ordered with mobile casters for ease of repositioning. Worksurface depths are available in 2-inch increments from 24 to 36 inches. Worksurface lengths come in 5 sizes, ranging from 30 to 72 inches. Lista's integrated downdraft suction system is available in all bench sizes and is incorporated right into the bench.

Lista benchtop systems are ergonomically friendly, allowing each lab technician to set the height of the worksurface to meet individual needs, from a height of 28 inches to 34 inches. Work pan shelves can be adjusted vertically in 3-inch increments and the tilt can be easily changed from flat to 15 or 30 degrees.

Lighting is one of the key features that make the Lista bench system so perfect for dental and orthodontic laboratories. A 4-bulb light provides 147 lumens at the worksurface, and Lista can supply color corrected lighting. The light's height can be adjusted to meet individual needs and lights can be tilted 5 degrees. In addition, an electrical strip on each bench provides 8 outlets per bench.

Lista dental workbenches come with multiple drawer options and doors are equipped with heavy duty hinges. Worksurface materials include a range of laminates, stainless steel, Trespa/resin, Corian, or butcher block.

Lista field representatives are available to visit laboratories and make an evaluation of specific features and configurations that would work best.

To find out more about Lista's dental workbench system, call or write: Lista International Corporation, 106 Lowland Street, Holliston, MA 01746 USA; TEL 1-800-722-3020; FAX 508-626-0353; email sales@listaintl.com. Visit Lista's web site at www.listaintl.com.

Related