Lindberg/MPH Ships Crucible Furnace to R&D Laboratory in the Nuclear Sector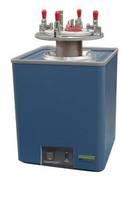 Lindberg/MPH announced the shipment of a 1100°C Crucible Furnace to a research and development laboratory in the nuclear industry. This crucible furnace will be used for a wide variety of laboratory melting applications, including annealing, ashing, carbon firing, ceramic firing, hardening, melting, nitriding, normalizing, sintering, solution treating, and stress relieving.
The maximum temperature rating of this light industrial furnace is 1100°C with work chamber dimensions of 5" top opening ID x 8" chamber depth. Lindberg/MPH's 1100°C Crucible Furnaces are designed with fast heat-up and recovery rates, exceptional temperature uniformity, and energy efficiency provided for low outer shell temperature. This piece of equipment provides state-of-the-art temperature control and minimizes heat loss during operation.
"The Lindberg/MPH crucible furnace line is designed to fit in a compact space, consuming only a small amount of laboratory bench space. Also providing excellent radial uniformity and energy efficiency, this line of equipment is ideal for an R&D laboratory." – Kelley Shreve, Applications Engineer
Unique features of this Lindberg/MPH crucible furnace include:
Energy efficient Moldatherm insulation

Moldatherm ceramic fiber hearth plate

Cover plug with Moldatherm insulation and handle for safe removal

Designed for use with a variety of crucibles including alumina, mullite, quartz, and metallic

Heating element is embedded in Moldatherm insulation

Well insulated furnace vestibule, including insulated air spaces and cabinet venting
Contact This Company Download Spec Sheet
More from Electronic Components & Devices