Lightweight Polyethylene Tubing Now Stocked in Two Styles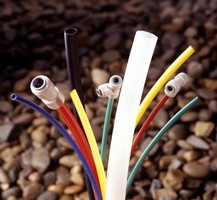 Both Multi-Purpose and Specialty Needs Addressed

Southampton, PA - Now available from NewAge Industries are two types of polyethylene tubing: linear low density formula and a style co-extruded with EVA (Ethylene Vinyl Acetate). While both are made from non-toxic ingredients conforming to FDA standards, they offer different performance characteristics. Uses include air lines, chemical and fluid transfer, food and beverage processing and distribution, pharmaceutical processing, pneumatics and instrumentation, potable water, deionized water, wire jacketing, laboratory applications, and decorative coverings.

Linear low density polyethylene tubing is a lightweight, flexible product suitable for a variety of uses due to its relatively low cost. It offers no transfer of odor or taste to critical streams, good dielectric properties, and is chemically inert, forming a good barrier to gases, vapors, and moisture. The linear low density formula provides enhanced resistance to stress cracking (over that of low density). It's durable and stays flexible at temperatures well below 0°F.

The co-extruded version - polyethylene-lined EVA - performs much like linear low density polyethylene tubing and offers additional features. Its ingredients conform to USP Class VI standards, and it provides greater flexibility over linear low density because of the bonded EVA outer layer. Polyethylene-lined EVA may be substituted for PTFE fluoropolymer tubing in applications involving working temperatures below 100°F, which can result in a cost savings of 50% or more.

Linear low density polyethylene tubing is stocked in translucent natural color in a dozen sizes ranging from .170" to 1-1/2" I.D. Select sizes are also stocked in colors (black, red, blue, green, and yellow). Polyethylene-lined EVA, stocked in nine sizes from 1/8" to 1" I.D., is available in translucent natural. Push-to-connect fittings are an excellent match for both polyethylene tubing styles and are also stocked by NewAge Industries. The fittings, called Newloc®, are available in plastic or brass.

For more information on polyethylene tubing, contact the Fluid Transfer Specialists® at NewAge® Industries, Inc., 145 James Way, Southampton, PA 18966; phone 800-50-NEWAGE (800-506-3924) or 215-526-2300; fax 800-837-1856 or 215-526-2190; e-mail: [email protected]; product-specific web address: www.newageindustries.com/polyethylene_tubing.asp

About NewAge Industries
In business since 1954, NewAge Industries manufactures and fabricates thermoplastic and thermoset tubing and hose. The company offers one of the broadest product lines of tubing, hose, and fittings in the U.S. and, with its introduction of the AdvantaPure® sanitary product line, is well suited to meet the demands of pharmaceutical and high purity applications. NewAge Industries prides itself on same-day shipment of 98% of orders for its core product lines. In 2006, NewAge Industries initiated an ESOP (Employee Stock Ownership Plan) for the benefit of both its employees and customers.