Lightweight Bladder Tanks Fueling The UAV Industry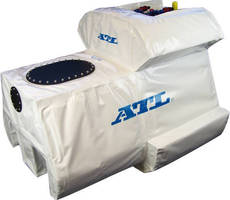 Aero Tec Laboratories (ATL) of Ramsey, New Jersey, an AS 9100C registered company, manufactures extremely lightweight yet ultra rugged flexible fuel bladder tanks for the unmanned aerospace industry.



Many industry leaders such as AAI/Textron, Boeing, General Atomics and Raytheon, depend on ATL's bladder tanks to fuel their unmanned projects and provide a lightweight, maximum fuel capacity alternative to rigid, or integral alloy tanks. These custom engineered rubberized nylon bladders safely accept gasoline, diesel, avgas, Jet A/B and all JP fuels. Specialized bladder materials are also available to resist many rocket and missile fuels including hydrogen peroxide, hydrazine, Otto Fuel II and HAN fuel.



ATL bladder tanks are fully collapsible for easy installation into tight and hard-to-access fuselage cavities and wing sections. Fully integrated fuel scavenging options such as sumps, baffles, surge-tanks, and weirs are available to prevent fuel starvation at near-empty conditions. ATL's state-of-the-art machine shop can produce custom lightweight fittings and flanges to complete the ultimate fuel system. Because of its flexible construction, ATL bladder tanks are immune to shock, impact, vibration, launching, retrieval and even hard landings. Harsh environments are no match for ATL bladders as they can operate to 60,000 ft. within temperatures of 200°F (95°C) and -60°F (-50°C).



ATL prides itself on quick turn around and above all, quality. Modern CAD systems create soft tooling or "e-templates" which enable ATL to offer prototype bladders within 2 weeks, and ramped-up production within a month. Aero Tec Laboratories was presented with the General Atomics Predator award for quality and on-time delivery, as well as being recognized by AAI/Textron for outstanding support to the Shadow UAS program.



To learn more or inquire about how ATL can supply your unmanned project with flexible, lightweight fuel bladders, contact an ATL Sales Engineer at 800-526-5330, email atl@atlinc.com, or visit atlinc.com.