Lenderking's New Patented Ventilated Rodent Cage, HYGIEIA, for Pharmaceutical Research Companies has been Tested and Verified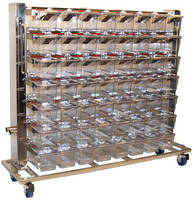 Lenderking's new patented ventilated rodent cage, HYGIEIA, for pharmaceutical research companies has been tested and verified at THE premiere national research institution. The HYGIEIA ventilated cage has been shown to keep ammonia levels in the cage to as low as zero for 21 days, using half the energy. Best competitor unverified claim is 50 ppm at 14 days. Ridding the lab of ammonia is essential to the occupational safety and health of personnel working with rodents. Ammonia is also a contaminant that can affect research results. The labor saved by allowing the lab to extend the cage change interval to 21 days can make ROI in as little as 3 years.
About Lenderking
Lenderking Metal Products is a 147 year old family owned business specializing in state of the art metal fabrication. Lenderking focuses on three main areas of metal manufacturing to identify customers metal product needs and provide solutions.
Lenderking Metal Products
8370 Jumpers Hole Road,
Millersville, MD. 21108
Phone 410-544-8795
Fax 410-544-5069
Related