LED Waves and OEM Client Awarded Lighting Patent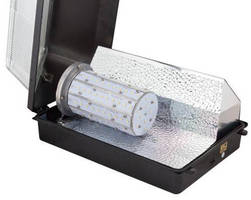 The two companies collaborated on an LED bulb redesign which extends the lifespan of light fixtures used in many industrial settings.



Manufacturer LED Waves is proud to join Mining Controls as recipients of a new lighting patent. This patent covers the innovative redesign of an industrial E40 bulb, brought about by an Original Equipment Manufacturer partnership between the two companies.



Since 1974, Larry Rowley has worked as a lighting specialist for Mining Controls to ensure that underground conditions meet the requirements of the United States Mine Safety Health Administration. With the rise of lighting class LED technology at the turn of this century, Rowley turned to LED Waves.



Rowley has worked closely with Joel Slavis, owner and head of RD at LED Waves, on a variety of LED lights made specifically for the unique and often hazardous environments presented by the mining industry. Notably, they designed a retrofit for E40 bulbs used in many light fixtures from Mining Controls.



The E40 is a large screw base bulb which has traditionally employed High Intensity Discharge (HID) technology. This technology is characterized by high Wattage and short operating lives. While more energy-efficient, LED E40 replacements tend to fail quickly as the electrical current concentrates heat in the bulb connection, wearing out the electronics.



Rowley and Slavis eliminated this problem by replacing the legacy E40 shape with a broad metal plate that acts as both an electrical connection and a heat sink. This dissipates the heat over a larger surface area, allowing the LEDs to last between 50,000 to 100,000 hours.



Making full use of the company's OEM capabilities, the prototypes for this design were built and heat tested onsite at LED Waves' office in Brooklyn, New York. Third party in-situ testing (within an enclosed fixture) was performed by UL Verification Services in Allentown, Pennsylvania.



Seeing the potential for further application in other E40 fixtures, Rowley and Slavis patented this retrofit design. Licensed as the EZ40, it is now available to LED Waves customers in the form of an LED wall pack security light. Bulkheads, bollards, and other commercial, industrial, and municipal light fixtures with the EZ40 retrofit are currently in development.







More from Sensors, Monitors & Transducers